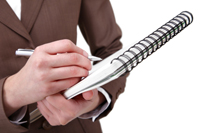 A columnist who writes about relationships for a top-tier media outlet (you or your PR clients will want to get into this one) wants to develop relationships with people who do research on psychology or relationships, particularly psychologists or academics.
"One of my frustrations in my column is that I don't often hear about the research early," the columnist says.
Respond in the comments section below and explain why you'd be a good source.
Should you pitch?
Nope. She, like other journalists, wants exclusive material. Just give what she asked for and let her decide if you're worth pursuing.