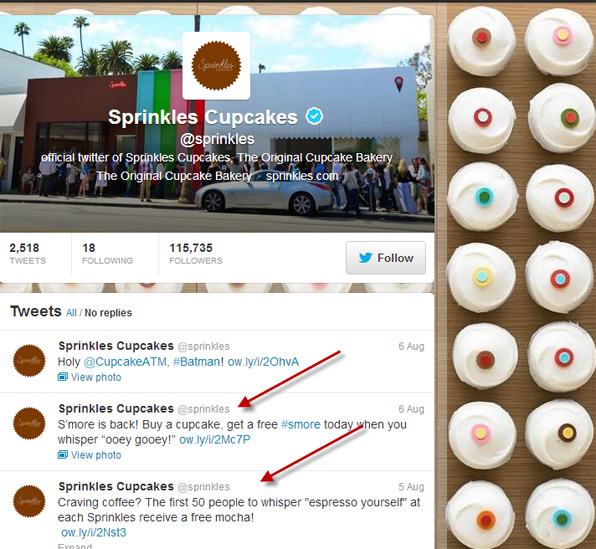 Take a cue from Sprinkles Cupcakes, an oh-so-publicity-savvy cupcake chain that has amassed more than 115,000 followers on Twitter with a "whisper" campaign.
Several times a week, it tweets a secret phrase. Customers who go to one of the Sprinkles stores and whisper it get either a freebie or a discount.
Buy a cupcake, get a free s'more when you whisper "ooey gooey."
The first 50 people to whisper "espresso yourself" at each Sprinkles receive a free mocha!
Buy one cupcake, get one free when you whisper "easy breezy."
Sprinkles, the world's first cupcake bakery with its anchor store in Beverly Hills, draws long lines of Hollywood celebs, foodies and folks who are willing to wait for a sweet gourmet treat with the signature sprinkle on top.
Ideas for Your Own Whisper Campaign
You don't need to require an in-store visit for a whisper campaign. You don't even need a retail store. The first 10 people to whisper your secret phrase when they call in their order can get a discount or a freebie.
Start a whisper campaign if you're hosting an event. The first 50 people who whisper the secret phrase at your jazz festival get a free visor.
Don't limit the campaign only to Twitter. Promote it on Facebook and Pinterest, too.
If you get significant traction from this marketing tip, promote it! Let your media contacts and bloggers know. It just might be worth even more publicity about the publicity buzz you've created.    
What ideas can you think of for a whisper campaign for your business?
If you like this tip, please share it.
But before you go, you've got to see this video of the Sprinkles Cupcake ATM.
[iframe src="http://www.youtube.com/embed//jlLQbL2Rv2I" width="100%" height="480″]