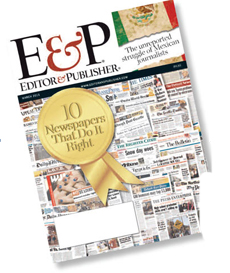 Don't be surprised if the newspaper, as we know it today, is gone a decade from now.
But before it disappears, let's give the newspapers that do an exceptional job their due. If you have a favorite local, regional or national newspaper that achieved something noteworthy in at least one area this past year, nominate it for Editor & Publisher's "10 Newspapers That Do it Right" award.
The annual award spotlights newspapers that have done an oustanding job at things such as sponsoring community events, offering hyperlocal content, covering high school sports or introducing a Groupoin type of "deal of the day" program. Ideas can be for editorial coverage, advertising or circulation campaigns, or anything else you've noticed. 
Winners will be featured in the magazine's March 2012 issue. You can see winners from last year. Deadline for nominations is Jan. 24.
Publicity Hounds: If a newspaper you nominate wins, it's just one more way to build a relationship with a media outlet that might cover you later.