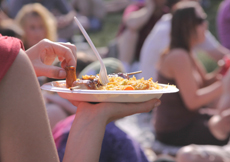 When you're brainstorming ideas to promote your next special event, use this shortcut: My list of 27 questions designed to get you thinking creatively about how to generate publicity. 
The answers will help you identify juicy angles, compelling pitches and other content the media and bloggers will want to know about.
I'll share several dozen more ideas when I host the webinar "50 Places Online to Promote Your Live and Virtual Events to Reach Your Target Market & Pull Sell-out Crowds" from 3 to 4:15 Eastern Time on Tuesday, Oct. 19. (If you can't attend live, register anyway because you'll get the video replay, MP3, PowerPoint slides I used, and handouts.)
Until then, whether you're doing your own promotion or you're part of a committee, here are 27 questions to ask while planning your event:
What's the most unusual or interesting angle to this year's event?
  
What trends are we expecting to see this year among attendees, and are they coming to our event to learn more about those trends?
  
How will a recent news event affect our live event? (Example: Is a major bridge near your event closed and undergoing repairs?  Has your organization come under fire recently?)
  
Who is the most interesting behind-the-scenes person or volunteer working on the event? (That person might make an interesting profile story.)
  
Can we sponsor a clever or funny contest in the weeks leading up to the event, on a topic that ties into our event?
  
Can we take a poll or survey that ties into our event, and then announce the results at the event? 
  
Have we created a Facebook Fan Page devoted specifically to our event and what can we offer our fans to attract their attention? (See 11 Ways to Avoid Missed Opportunities on Facebook)
   
What kind of intertesting, short videos can we create and upload to sites like YouTube to drive traffic to the sign-up page?
  
What are good topics for tips sheets we can write for pre-event publicity? (Example: "9 ways to keep employees from bolting to your competitor's company" would tie into an HR conference.)
  
What kinds of how-to articles can we write and upload to article directory sites, or offer to bloggers who write specifically for our target market?
  
Who within our organization can write a guest blog post on a topic that ties into the event, and to whom can we offer it?
  
How are we using technology to draw more visitors?
  
What are we doing to attract attendees in an unconventional age bracket or demographic?
  
How are we making the event safer?
  
If it's a virtual event like a teleseminar or webinar, what are we doing to make the event of significant value to attendees? (Are you soliciting questions beforehand and promising to answer them during the call or afterward? Will you answer  their questions during the session even though they aren't there? Are you offering bonuses like audio and video replay links?)
  
What can we plan at the event to guarantee great visuals for television, preferably something that will attract the TV cameras beforehand?
  
What major changes are we planning this year?  Is it because of a mistake made last year? (Don't be afraid to talk about your mistakes and what you learned from them!)
   
Are we celebrating a significant anniversary like a 10th, 20th 50th that we can tie into the event? If so, can we make old photos, documents and other historical memorabilia available to the media as part of pre-event publicity?
  
Does our event tie into a major or minor holiday? And if so, how can we piggyback onto that holiday?
  
What are we doing to pull more people to our event when the economy is bad and people don't want to spend money?
  
Who attended our event last year and might agree to be interviewed by the media about what they saw/learned/ate/heard/experienced?
  
Is there a follow-up story from last year's event that we can pitch this time around?
  
What is the most significant or interesting "preparation" that goes into our event?
   
Is there something related to our event in which we can invite a reporter to participate? (A cardboard boat regatta can invite a reporter to ride along in one of the cardboard boats and report on the competition. Fun!)
  
What interesting photos, graphics or logos can we offer to the media and bloggers to accompany a simple calendar listing?
  
What sites like Meetup.com can we use to promote our event and which of the above angles can we use to get them to our event?
  
Can we offer the media quiz that ties into our event?
There you have it. But what have I missed? Can you add any questions to this list?
What's your best tip about publicizing an event?