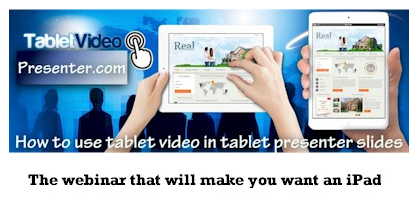 If you're a speaker or consultant who relies primarily on boring PowerPoint for your presentations, it's time to wake up your audiences, impress them and encourage them to buy, buy, buy from you.
You can do it with an iPad and Keynote, the $10 app that even lets you insert video into your slides. 
Mike Stewart, a wizard with the iPad, will demonstrate how to do that, step-by-step, from 4 to 5:30 p.m. tomorrow, Sept. 19, during a free webinar on "Tablet Video Training: How to Make Killer Video Slides with an iPad."
Claim your free seat here. (UPDATE: Watch the replay here.)
If you're a non-techie, like me, you'll love Mike's training because he makes it drop-dead easy to understand, while also making it fun.
If You Don't Own an iPad…
Don't want to buy another expensive toy?  Register anyway.
I wasn't interested in buying one until I hosted Mike a few months ago for a free webinar on how to create and edit video with the iPad. I was so excited at what I saw him demonstrate, that immediately ordered a refurbished iPad 2 from the Apple store, for just a fraction of what a new one would have cost.
I'm having a ball creating videos, but I still haven't tackled creating presentations using Keynote, the $10 app.
Join me as we learn how tomorrow.
iPad Training Will Put Money in Your Pocket
Top-notch presentations that make you look like a techie encourage your audience members to do business with you—hire you as a consultant and buy your products and services. Mike will even include great tips on where to market your snazzy presentations, whether you're giving the luncheon presentation for free in front of the local Rotary, or doing a paid presentation for an industry group.
Authors, if you're only selling books, you should start selling video products. One way to do that is with this training.
Speakers, ratchet up your presentation skills several notches with Mike's help. Register for the free training here, and come with lots of questions.  
Can't Attend Live?
Register anyway because Mike will update you on other programs like this one.
Hope to see you on the call tomorrow.