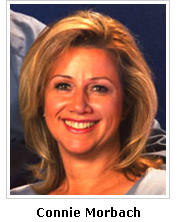 Susan Murphy of Pleasant Ridge, MI writes:
I'm looking for some interesting avenues in which to promote our client, an environmental scientist who specializes in toxic mold education, detection and remediation.
Connie Morbach, M.S. CHMM CIE, is a respected national authority in indoor air quality (IAQ) who has performed over 10,000 residential/commercial air tests and environmental evaluations.
Since 1994, her team has witnessed the illnesses and devastation caused by many ill-equipped and unscrupulous IAQ/Mold 'professionals' in their industry, and they continue to help so many who have suffered from these injustices. She has just started a blog and is tweeting to share her knowledge as well.
Connie has been featured on a half dozen indoor air quality investigative segments for NBC's the " Today" show ("Why your gym may be making you sidk" and "Watch out for hidden germs in supermarkets") , as well as "Rachael Ray" and "Extreme Makeover Home Edition" in the past but she hasn't had a PR firm since then.
She's looking to get the word out again about her expertise and I'm hoping your loyal Hounds can suggest some thoughtful ideas.