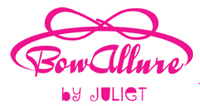 Juliet Hartley of St. Petersburg, Fla., writes:
"I've been sending a lot of pitches to different magazines about my chic handmade hair accessories at BowAllure.com, but I just don't hear anything back from them. It's very frustrating. 
"I'm attaching a copy of a pitch I sent to a few magazines and would love to hear your input.  I've contacted a couple of reputable publicists but I just cannot afford to pay for their services at this moment.  The magazines I'm trying to send pitches to are very hard to reach, like Parents magazine or Pregnancy and Newborn magazine. They don't give you the email address of the editor.  Here is a copy of the pitch.
Subject: Back to School Must Haves
Dear Editor:
Bow Allure is an online boutique that provides Moms with fashionable, chic, handmade hair accessories.  With more than 200 boutique style hair accessory options to choose from, Bow Allure's beautiful headbands are made for newborns, toddlers and girl sizes, and their selection of clips and bows are suitable for all ages in MANY different sizes and varieties.  Exceptional, personal customer service is the forefront of our company's values and commitment to clients.
I'm attaching a picture of a must have back to school hair bow for girls and teens.  I would be happy to send you a sample so you can prove to your readers that these are in fact great products.
I appreciate your time and consideration for what Bow Allure (http://www.bowallure.com/) has to offer.
I can be reached at juliet@bowallure.com or by phone at (727) 403-6806.
Sincerely yours
Juliet Hartley 
The Publicity Hound says:
OK, Hounds, have at it. I see several problems with this pitch. Can you find them all? If you were Juliet, how would you pitch this? Or would you?