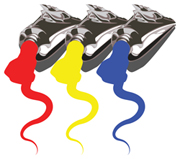 Gabrielle Javier-Cerulli, of Rochester, New York writes:
"I just launched the Global Network of Expressive Arts Facilitators and need to get the word out about it and attract new members on an international scale.
"It's a membership-based organization for facilitators, all non-therapists, who use the creative process (painting, drumming, singing, journal writing, collage-making) with their clients with the intent of self-discovery, clarity, enjoyment and healing.
"Our mission is to build community for these heart and soul-centered facilitators and also to publicize our members and what they do via listing them on the online directory, by highlighting them in the Member of Week, a BlogTalkRadio show, and opportunity to submit their articles on videos to the website.
"We have Twitter and Facebook pages and a blog. I'd love to hear other ideas of getting the word out to this global niche market. Also, how do we go about finding speaking engagements to talk about the network?"