Every December, Trendwatching.com publishes an annual list of a dozen crucial trends for the following year.
If you're looking for a hook to hang a story onto, so you can pitch it to the media and bloggers, there are lots of opportunities.
Here's the list of 12 Crucial Trends for 2012 (there are actually 13):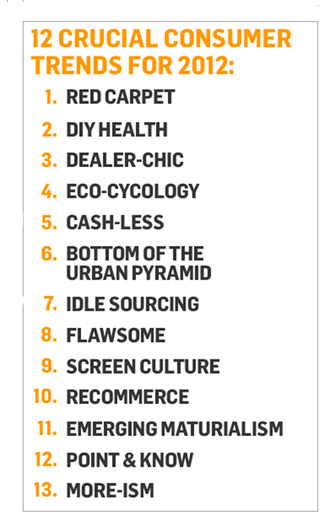 You won't be able to determine instantly what each one means, so go to the website and read more. Trendwatching also has provided a helpful list of four tips you should read that helps you understand how you can use this list and actually make money from it: 
Influence or shape your company's vision.
  
Come up with a new business concept, an entirely new venture, a new brand.
    
Add a new product, service or experience for a certain customer segment.
    
Speak the language of those consumers already "living" a trend.
How about a fifth? Tie a story idea from your company or nonprofit into one of the trends.
Here are some some examples I thought of that tie into items on the list above:
1. Red Carpet. Are you one of the department stores, airlines, hotels, theme parks, museums or cities that plan to roll out the red carpet for Chinese visitors and customers with tailored services and perks? If so, when? And how does this tie in with your overall marketing plan? A great story for local business journals. 
  
3. Dealer-Chic. What are you doing to reward thrifty consumers who love the thrill of chasing down bargains and deals? Have you started a Deal of the Day or a Deal of the Weak? What about membership clubs or rewards programs?
  
4. Eco-cycology. The media particularly love stories about making the environment cleaner. Pitch anything dealing with innovative ways you're recycling, how you're encouraging employees to offer their best ideas and even products you're making, or packaging you're using, from recycled materials. How does this affect the bottom line? Any time you can point to a dollars-and-cents savings, you've got a great tidbit to include in your pitch.     
  
8. Flawsome. What are you doing to be honest about your company's flaws? How are you showing empathy, generosity, humility, flexibility, maturity, humor and character? Are you blogging and adopting a blog policy to address nasty comments head on? How are you showing your flaws on the social media sites? If you don't have a social media policy yet, here are more than 80 free sample social media policies you can review. 
  
9. Screen Culture. What are you doing with your website or sales process to make it easier for consumers to connect with you by simply touching the screens on their tablet or smart phone or at the kiosk at the local malls? Nonprofits, are you making it easier for people to donate? 
Those are just a few ideas. I know you can think of more. Don't miss Trendwatching's 15 tips on how to best track and apply trends.
How will you use this list as part of your PR campaign next year? How will you be tying your pitch into these trends?