You're trying to get into a company that needs your products or services. But you don't know anyone who works there, and you don't want to be a pest by making a cold call.
What to do?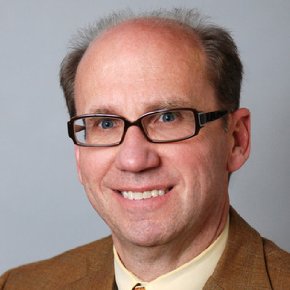 Wayne Breitbarth, author of the Number One best-selling book on LinkedIn, says you have several options. You can use LinkedIn's search function to find your connections who work there.
If they aren't first-degree connections, you can find an intermediary to introduce you via LinkedIn's "ask for an introduction " feature—that is, one of your first-degree connections who is also one of that employee's first-degree connections. But you won't always find somebody who's connected to both of you at the top level, particularly if you don't have many connections.
Sometimes there's a much quicker, more effective way to get inside.
Breitbarth says the Alumni feature can unlock corporate doors. You simply look for people who attended the same college you did and, preferably, know you.
And then you call them and ask for their help. What better way to start the conversation by reminding them about the good old days, or the college football team, or any other topic that will create an emotional bond.      
   
Step-by-Step Instructions Tomorrow 
Breitbarth will demonstrate how this works when he's my guest during a webinar at 3 p.m. Eastern Time tomorrow—Thursday, Aug. 30—on 4 Secret LinkedIn Power Tools to Connect with Journalists & Put Money in Your Pocket.  Everyone who registers will also get the links to the video replay and other materials, within 72 hours. If you can't participate live, you won't miss anything.
In the dozens of workshops that Breitbarth hosts throughout the U.S., he's discovered that most of his students don't understand all the ways they can use the Alumni feature. Here's a quick look at how it works.
From your homepage, click on "Contacts." Then, click on the name of the college you attended: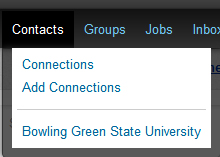 You'll see a screen that looks like the one below. Notice how many connections I have—4,194–just from the four-year period that I attended Bowling Green State University in Ohio: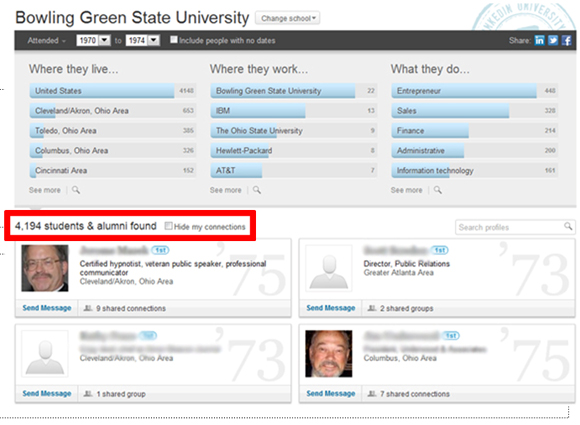 On the black bar at the top, if I check the box that says "Include people with no dates," LinkedIn returns to me a list of 13,119 alumni and students. But students would be of no use to me, so I leave the box unchecked.
The "Where they live," "Where they work" and "What they do" columns lets me drill down even further and find the perfect person who can put in a good word for me. The way that LinkedIn sorts this information into three columns can be much more helpful than if you simply used the Advanced Search function to search for people according to the college they attended. That's because LinkedIn would return to you a long, unwieldy list that isn't separated by location, company or title.   
 
More Reasons Why This Tool is Valuable
Breitbarth says your classmates present a tremendous opportunity to make some important connections, even if you don't need to get inside a particular company right now. 
"Some of your old fraternity brothers, sorority sisters might or dorm buddies might now be presidents of companies you may want to do business with later," he said. Others might have nice databases of first-level connections  which could lead to more second- and third- level connections for you.
During Thursday's webinar, Breitbarth will also demonstrate how to use other tools on LinkedIn to connect with radio talk show hosts who might want to book you as a guest, people updated on new products and services you're offering, and spy on conversations people are having about you, your company or any other topic.
I'm lucky enough to live near Breitbarth in the Milwaukee area, and I  had breakfast with him recently. Right there in the restaurant, he showed me how he searched for radio talk show hosts and contacted them. He sent one email to all 12 hosts at the same time and got two bookings.
I hope you can join us tomorrow. Just when I think I have LinkedIn figured out, I meet with Breitbarth and he tells me five or six things I didn't know. You can register here and read the gushing testimonials from people who attended one or both of the other two LinkedIn webinars he did with lowing
What burning questions do you have about LinkedIn?