Go ahead. Drool all you want over photos of those eight-layer chocolate mocha wedding cakes. 
While you're at Pinterest scrolling through the thousands of enticing photos of strapless gowns, cute puppies, breath-taking sunsets and stiletto heels, I'll be creating Boards around a common topic and using my pins, or images, to pull viewers back to my blog posts. Pinterest is the hot, hot, hot social media site that lets you create virtual pinboards, load them with photos, and link back to your website, or the site where you found them.
In January, Pinterest pushed more traffic to websites than Google+, YouTube and Twitter combined!   
I created my first board  just now and it's called "Best Ways to Get Free Publicity." Here's quick peek: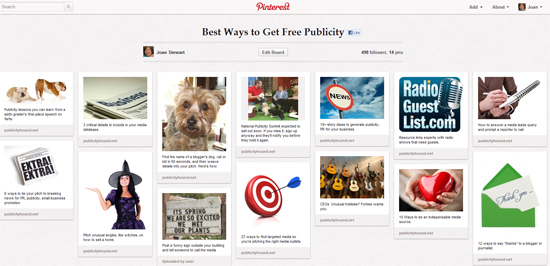 Each photo has the headline of the blog post underneath and links back to the post.
Now for the best part. Those posts are filled with content-rich tips and free advice, as well as links to products I sell at my website, links to the page where I explain all about The Publicity Hound Mentor Program and even affiliate links where I earn a commission for selling other people's products and services. You can follow The Publicity Hound on Pinterest here.
   
   
My Most Important Tip:
With so many concerns about copyright violation, it's imperative that you use Pinterest's "Pin It" button on your toolbar. This ensures that the photos you pin will be linked back to the website where you got them.
   
   
My Second Most Important Tip:
After you create an account and complete your profile, don't start creating boards unless you're fairly comfortable with the site.   
Don't just start pinning willy-nilly without making sure that you credit the source. I started pinning a few weeks ago before I knew what I was doing. And I need to go back and make sure that every photo is sourced.
   
   
Want to Learn More About Pinterest?
I'll be explaining this cool technique for linking back to old blog posts, as well as beginner's tips and advanced strategies, when I host the webinar "How to Use Pinterest to Generate Clicks, Traffic, Links, Leads and Sales" at 3 p.m. Eastern Time today, Thursday, March 15. If the time is inconvenient for you, register anyway because I'm recording it and I'll email you the link to the video replay, the slides and the other materials within 72 hours. 
After you create your first board, come back here, comment and give us the link so we can see what you've done.  Then, after a few weeks, come back here again and report on what kind of traffic you're seeing from Pinterest.  
If you need an invitation to Pinterest, email me at JStewart (at) PublicityHound.com with "Pinterest Invitation" in the subject line and I'll send you one.