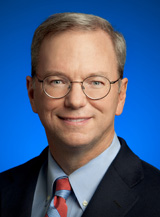 Here's what Google's former CEO Eric Schmidt has said can happen to you if you're not active on Google+. The emphasis is mine:
"Within search results, information tied to verified online profiles will be ***ranked higher*** than content without such verification, which will result in most users naturally clicking on the top verified) results. The true cost of remaining anonymous, then, might be irrelevance."
Here's how I interpret that:
"Ignore Google+ and Google will ignore you."
Yikes! You absolutely cannot afford to let that happen.
Join me and social media strategist BL Ochman for a webinar today from 4 to 5 p.m. Eastern Time on "Why Google+ Matters to Your Business and How to Use It Wisely."
Can't make the live call? Register for the Google+ training anyway. I'll email you the links to the video replay and all the other bonuses.
Google+ has 500 million users who don't want to become irrelevant. Isn't it time to join them? If you're STILL not convinced that this for you, read yesterday's post on 17 enormous advantages of Google+.