If you're launching a book, or if your book has been out awhile, you need a media kit.
It's the primary marketing piece that includes a variety of items that will make it easy for people to promote your book. Those don't only include journalists. They include bloggers, meeting planners, your social media friends and followers, bookstore owners, and others.
I'll walk you through all the elements in your media kit from 4 to 5 p.m. Eastern Time today when I host a webinar with Joel Friedlander on "The Indie Author's Guide to Creating a Killer Media Kit." Claim your free seat here.
Here's a sneak peek at what you'll learn.
How to Write a Press Release for Your Book
Press Release Tips for Fiction:
1. The first paragraph can emphasize the main character.
Who is it? How is the character involved in conflict? Briefly describe the character's personality and their role in your story.
2. Concentrate on the emotional angle of the book.
Is it a nail-biting mystery? A smokin' hot romance? A picture book that will comfort children who are afraid of monsters?
3. Mention the target audience for the book.
Don't assume people would know if they are the ideal readers. Be as specific as possible. Don't fool yourself into thinking your book is "for everyone."
4. Include a strong quote from you.
No B.S. quotes about how "honored" or "thrilled" or "pleased" you are to introduce your book. Instead, explain why you wrote it or how readers will feel when they're done reading it.
Press Release Tips for Nonfiction:
1. Concentrate on the problem and the solution.
What's the main problem readers are facing, and how does your book help them solve it?
2. Excerpt tips.
List from three to seven tips from your book that explain how to solve the problem. This gives readers hope and demonstrates your ability to help them.
3. Use a numbered list.
Each tip should be in bold, followed by a shorter explanation of the tip in plain type, just like I'm doing here.
4. Mention the target audience.
What types of people are most likely to struggle with the problem your book addresses?
Tips for Fiction and Nonfiction:
This is my pet peeve because so few authors do this correctly. Include full contact information: a phone number, email address, shipping address (in case they want to mail you a check) and a link to your website.
How to Use Author Publicity Photos
If a blogger or a journalist from a newspaper or magazine wants to write about you, can they find a choice of feature photos in your media kit at your website?
These are called "environmental photos" because they show you in your environment and tie into your topic or expertise. Here's an example.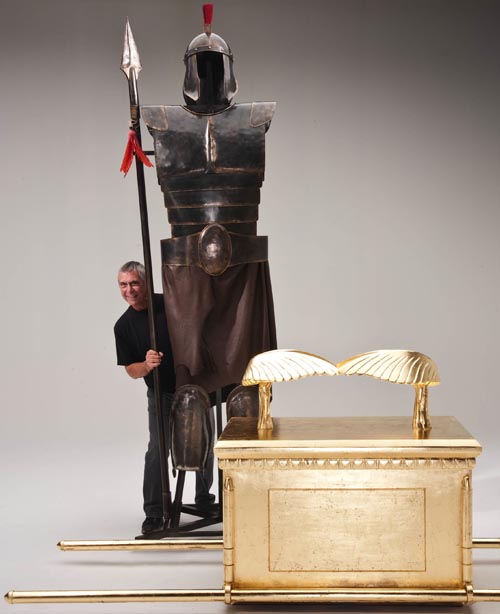 Author Michael Thompson, who writes Christian fiction, had this photo taken with Goliath, a 10-foot tall suit of armor, and used it during his photo shoot with Memphis photographer Woody Woodliff. It was made by Memphis metal sculpture artist Jerry Coullard. The photo also shows a model of the Ark of the Covenant, made by artist Jim May who built it with styrofoam and covered it in faux gold leaf.
"I used it for book signing tour of DAVID–the Illustrated Novels on the Life of King David," Michael said. "I rented a U-Haul for the art of the covenant. I can put the 10-foot Goliath into my SUV, an Infinity QX56, erect it in about 20 minutes outside a bookstore, and take it down in about 15 minutes."
He's convinced that Goliath helped pull more people to his book signings.
This is also an excellent example of how publicity photos in a media kit come alive if you use props.
I hope your can join us for today's free training. Register here for "The Indie Author's Guide to Creating a Killer Media Kit."