How I wish I had had Jeff Johnson's free YouTube cheat sheet when I started my YouTube channel about eight years ago.
YouTube was a mystery to me. I was struggling to learn video—how to use the camera, the proper lighting, how to edit—and there was little time left to figure out how to use YouTube. It was all I could do to upload a video and slap a title and a one-sentence description on it!
Those days, thankfully, are over. And a lot has changed since then.
Today, YouTube offers so many more opportunities to pull traffic that converts to leads, and leads that convert to paying customers. For example, the YouTube partner program lets you include an annotation on your video that tells viewers to click and takes them right over to your website without making them type your URL!
Here's a screenshot from a new video I uploaded this week.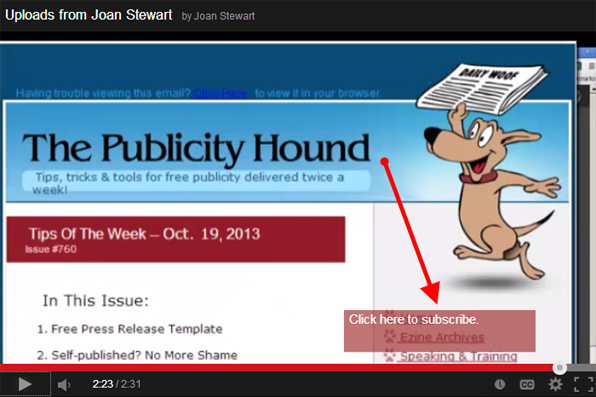 At the end, my call to action is to sign up for my ezine. When they "Click here to subscribe," they're taken over to my website where they can sign up for the newsletter. 
You pay nothing to become a YouTube partner.  
One of the valuable things I learned from Jeff was to never use a call to action that sends people to a sales page where you're urging them to buy something.
Get the lead first, he says, by asking for their email address in exchange for valuable tips they'll love. Then, give them time to know, like and trust you.
At some point down the road, ask for the order.
He also taught me to use all 5,000 characters allowed in the video description. That's a big hunk of valuable real estate—the perfect place for keywords and for links back to my website. 
Grab Your Cheat Sheet and Free Training Video
Jeff is giving away cheat sheets that list 15 ways to pull fast, free traffic from your YouTube channel. Grab it here, along with a free training video you'll love.
Creating your own YouTube channel is one of the steps I recommend in building your own media empire. Don't wait around for a local TV station to cover you, or for a big national program like "Good Morning America" to call or you'll be waiting forever.
Pitch the TV stations and programs all you want. But also promote yourself with YouTube. It's fast, free traffic. And if you do it right, it converts to sales.
[Full Disclosure: I am one of Jeff's affiliates. That means that if you buy something from him down the road, I earn a commission. ]