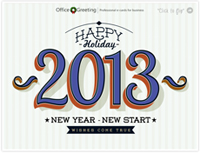 The last thing I want to see in my LinkedIn messages are ecards wishing me Happy New Year or even Happy Birthday, some that include  music and blinking lights. I found three of them in a row just now when I checked my DMs.
Here's the kicker.
In each case, I was one of a gang of people who received the card, making me wonder why the sender didn't even bother trying to personalize it. The first card was sent to 11 of us. The second was sent to nine of us. The third card was sent to 10 of us.     
LinkedIn's DMs should be reserved for business-related messages. Increasingly, more and more messages in my LinkedIn Inbox are for free commercials or promotions. It's a time-consuming chore to pick through this mess for the really important items. 
Ecards add to the clutter. Save them for Facebook. 
Am I wrong?