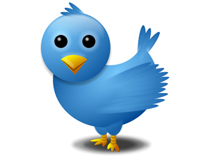 Here are my Top 10 tweets from this past week, great for retweeting! If you missed these, follow The Publicity Hound on Twitter.
Two Simple Twitter Tips to Virtually Dominate Your Niche
Here are a two quick and easy tips to help you virtually dominate your industry through the power of Twitter!
Guess which platform journalists like way more: Facebook or Twitter? Here's why
The reason is that Twitter is simply more useful for our jobs. For better or worse, it's where news breaks today.
Good List of Top 50 Bloggers
Whether you're launching a book or introducing a new app, plan to spend time researching and pitching bloggers who do product reviews.
Why Journalists are Becoming Entrepreneurs
The buzz around why big news organizations are struggling to retain top reporters flared up this week after more departures from the New York Times. Pundits have been quick to tie the trend to the demise of old media brands that can't pay their people enough and rely on dead trees.
7 Most Powerful Calls-to-Action for More Retweets
There are 7 words and phrases that when included in a tweet are correlated with that tweet getting more retweets than those that did not include those words.
4 Restaurants Doing Social Media Right
There are plenty of best practices for restaurants on Twitter and on Facebook — and we're highlighting four brands that have put those suggestions into action successfully.
How To Sell Out An Event With Facebook Ads
One of the biggest critiques of social media marketing is that it can't drive sales. While social networks like Facebook work with vendors such as Expion to connect the dots, top marketers are using social strategies and tactics to drive results, both online and offline.
How To Select News Release Distribution Services
When you examine the outlets that picked up the news from the traditional wire, they are more popular news sites with a slew of broadcast TV websites, daily papers and business journals.
Take This Quiz Before Sending Another Press Release or Email