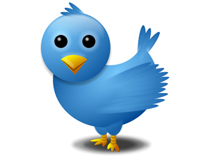 Here are my Top 10 tweets from this past week, great for retweeting! If you missed these, follow The Publicity Hound on Twitter.
How to Convert a Hangout on Air to a Podcast
It is surprising to discover just how easy it is to convert Google Hangouts into an iTunes podcast. It's so easy and the cost is so low that there is hardly any reason not to attempt it. Here are the steps to take to repurpose those YouTube video Hangouts into an iTunes podcast.
Get rid of social media guilt in the new year
It seems like nearly every day the tech sites and blogs are reviewing and talking about a new social network.That's their job. Just remember that it's not your job to jump into every single one. Just because you read that afew business are using a new platform successfully doesn't mean it will necessarily work for your brand.
How to use Pinterest in your media kit
Pinterest can be a wonderful way to supplement your media kit and tell brands that you are worth working with. Create boards as an online resume in pictorial format. Here are ideas for boards you can share with brands who want to work with you.
Is Ebook Writing Different than for Printed Books?
The key to writing an expert ebook lies in what some of us were taught in journalism school: Connect with your readers.
Who to follow in social media for 2014. Are you on the list?
Susan Gilbert decided to create and share my list of the top social media mavens and Klout users who rock influence! (People who love their social media and who dedicate – a lot of – time to talk about it!)
Give your Twitter marketing for business a boost with 4 tools
Need some resources to help you improve your Twitter marketing for business. Here's four links with tips and tricks to kick start your Monday.
Three Keys to Meaningful Marketing for Service-based Solopreneurs
Many service-based solopreneurs struggle with marketing because they think they have to recreate the wheel every time they need marketing ideas. A simple approach to finding marketing ideas is to look what other service-based solopreneurs are doing and have done in the past.
6 Tips for Writing Effective Pin Descriptions on Pinterest
The description part of a pin on Pinterest is one of the most important parts. Many people don't spend much time writing Pinterest pin descriptions. People make this mistake because they don't know that a good description can help pins get more exposure.
22 Ways to Make Your Pinterest Pins Go Viral
Here is a great cheat sheet from Pinterest to get you more exposure.
How to use celebrities to promote like Duck Dynasty
Duck Dynasty has broken numerous rating records on cable, often out-pulling powerhouses like American Idol with multiple millions of viewers. And the merchandising machine is in full steam. You can barely go anywhere without seeing one of these bearded wonders peering at you from some sort of product.