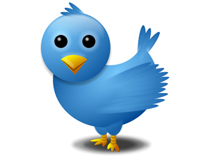 Here are my Top 10 tweets from this past week, great for retweeting! If you missed these, follow The Publicity Hound on Twitter.
7 overlooked self-promotion opportunities for your company. [I love #3]
Here are just a few methods which are commonly overlooked, but can bring a lot more exposure to your company.
How to use Topsy to find your first tweet.
Today, social analytics platform Topsy has unveiled a huge upgrade, adding Twitter's entire history of 425 billion public tweets to its archives.
5 places to find free images for your blog.
Here is a list of different places to get free use images that you can use for your website, blog or anywhere else without paying a dime.
10 tools or apps that help PR pros deliver amazing pitches to potential clients.
Often winning the most lucrative B2B tech PR clients requires entering a competitive pitch. These need meticulous preparation and a confident, slick team to deliver a presentation that knocks the prospect's socks off. Here are our top 10 tools and apps (most of them free or dirt cheap) that will make crafting a killer pitch that little bit easier.
Have a great story to pitch? Here are 7 places to find freelance writers
When you're planning a publicity campaign, don't overlook freelance writers, a powerful resource that can help you spread the word about your product, service, cause or issue. Freelancers often use the same valuable sources (like you) over and over again, as they write for different newspapers, magazines and online news sites.
3 free tools to create an embed code for infographics.
After all of the hard work of creating an informative, and eye-catching infographic for your business, you will want to make sure that it is viewed and shared by as many people as possible. Thankfully there are several resources available, which help you to create what is called an'embed code,' or HTML code for your infographic.
How to Be Active on LinkedIn
LinkedIn's entire pool of members is too vast for you to totally engage in, of course, but you do want to become a reliable authority in your particular business niche. You want to become someone everyone automatically thinks of as a leader, when they think of your area of marketing or business.
How to Use Facebook to Grow Your Email List Quickly
Building an email list is one of the most important things you can do to grow your business, because leads lead to customers. The great news is, Facebook is an excellent tool for growing your email list quickly.
Social media vs. having a life: 3 ways to strike a balance
No one wants an experience like that of Cesar Kuriyama (a TED speaker now documenting one second each day of his life) who failed to enjoy a once-in-a-lifetime sunset because he was too busy trying to get a good picture of it for Facebook. Is there a way to maintain the social media presence we all need to succeed and stay connected, without missing out on those moments?
25 tips to promote your blog via Facebook and Twitter
Without getting the word out about your blog, your content will never maximize its reach. To this end, leverage Facebook and Twitter to support your promotional blog activities.The logic behind Facebook and Twitter blog promotion is to take advantage of their broad, global reach. Therefore understand Facebook and Twitter participant behavior.