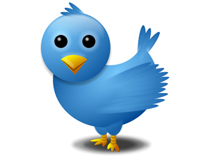 Here are my Top 10 tweets from this past week, great for retweeting! If you missed these, follow The Publicity Hound on Twitter.
Research: Why social media optimization may perform better than SEO
Are you paying attention to using keywords to optimize your social media profiles and content? Keywords still play an important part of your SEO. This also applies to social media not only for the search engines.
Write killer headlines that scream, "Read me!" This fun, free tool is a blast to use
You're reading this right now because the headline at the top did exactly what I wanted you to do, thanks to a free tool I discovered that helps me write punchier headlines. It's the Emotional Marketing Value Headline Analyzer and it tells me, within seconds, how well my headline or email subject line appeals to your emotions.
 3 Reasons to Embed Content on Your Blog
Google Plus joined Twitter, Facebook, Pinterest and Instagram, among others, and now allows you to embed Google+ content on your blog.  You've been able to embed videos on your blog for years. Now, every social network is jumping on the bandwagon and giving you the option to embed your social posts.
Fact sheets: How to write them and when to use them for PR
Providing background information on an organization, issue, place, service or product can make the difference between journalists or stakeholders deciding to focus on your message or turning their attention elsewhere.
Top 10 Health Journalists at CNN
This list includes the top 10 CNN/Cable News Network health journalists on Twitter, ranked by Klout score. Using Cision's media database, we compiled the list based on Cision's proprietary research.
The sad truth about "best times to post" infographics
Here's the sad truth about "best time to post" infographics: they look at the fan base of whatever data set they're using, pick out the times that represented the highest engagement (comments, "likes", etc.), and report it as gospel to everyone.
Profitable Webinars Made Easy
Webinars are a profitable and popular way to disseminate information to a lot of people at one time. It is essentially a web based seminar. If you have a lot of information you want to disseminate to a number of individuals or groups but don't want to spend a lot of money doing it, a webinar is your answer.
10 Ways to Manage Your Online Life
Maintaining a strong personal presence requires consideration and diligence. Therefore, every person must regularly invest time towards improving his or her internet presence.
Bogged Down By Content Research? 6 Tips to Make the Process Fast and Painless
Let's be blunt here for a second. You can waste tons of time researching your content. In fact, it's not uncommon for someone to spend twice as much time researching for their content than writing it. That's precious time. Time you could be spending doing something much more fun and interesting.
My answer to "What is a good structure for writing an article about an exciting new startup?"
From Quora.com Public Relations (PR): What is a good structure for writing an article about an exciting new startup?