Here are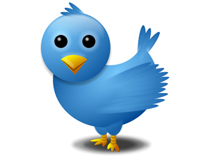 my Top 10 tweets from this past week, great for retweeting! If you missed these, follow The Publicity Hound on Twitter.
Here's what "off the record" really means when interviewing with a journalist. 
This is an interesting topic for a presentation! Here are three ProfNet experts who answer all your questions about the term "off the record."
The importance of post-sale reviews and how to get them. 
By paying close attention to your data and regular testing, and by integrating your review platform with your digital marketing platform, you'll be in a position to include customized recommendations and product ratings in pre-purchase, promotional and transactional emails.
How people read articles online. [Adjust your writing accordingly.]
Why people online don't read to the end.
10 out-of-this-world Twitter tips from NASA.
Read the blog post for several social media tips and Twitter tactics Jason shared recently with PR University.
5 social media sites for artists and designers–great places to get publicity, compliments and money.
Publicity, compliments and money are among life's greatest motivators, especially in the eyes of the modern day workforce.
Content is King and You Can Be Too: The Convergence of PR and Journalism.
Whether you're a journalist, a PR professional, a content marketer or a brand, just remember: Content is king, and you can be, too.
How to pitch a guest post for The Publicity Hound blog. (Topics: publicity, PR, social media, content creation.)
If you want to get in front of an audience of people who love to self-promote, including business owners, authors, speakers and experts—as well as PR people and publicists—you're in the right place.
Does your logo meet these 5 rules for branding?
Whether you've never had a logo developed or you just have that doubt in the back of your head that your logo isn't everything it could be, these five rules for your brand can help guide the process of creating or updating your logo.
Publishing Predator Update: Class action suit filed against AuthorHouse.
The favorite sound of every publishing predator is: Cha-king … Cha-king … Cha-king
Authors: How to write a pitch letter to a book reviewer.
Here are seven key points in writing a pitch letter to the media and or book reviewers.