Here are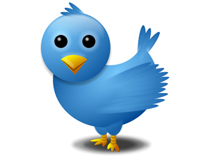 my Top 10 tweets from this past week, great for retweeting! If you missed these, follow me on Twitter.
Is using YouTube for business a mystery to you?
Free cheat sheets + video training and 15 YouTube Ranking and Discoverability Factors Checklist

Will you use the F-bomb in blog posts and on social media, now that the FCC has defused it?
FCC chairman Julius Genachowski has significantly defused the power of America's favorite dirty word. According to TALKERS publisher, Michael Harrison, Genachowski has changed the nature of 'f***' forever…

Need a celebrity to appear at your event? Database of 67,000 celebs offers 7-day test drive.
Get verified celebrity addresses and contact information for over 67,300 celebrities and public figures, 12,600 representatives (agents, managers and publicists) and 6,900 entertainment companies 24 hours a day, 7 days a week.

Short story contest by WritersWeekly. 85 prizes, including cash.
Register for the Summer 2013 24-Hour Short Story Contest. Start time is July 13, 2013 at 12:00 p.m. (noon) central time. Held quarterly and limited to 500 entrants.

Why Forbes' "Top 25 Social Media Influencers" is a sham.
Once a year, a fellow named Haydn Shaughnessy shows up on the social media scene and creates a list of the "50 Top Social Media Influencers," which is published via the online version of Forbes.Here is this year's list. What do tou think?

Authors: 7 ways to send more traffic to your website during a radio interview.
Imagine you are doing a radio interview and you hear the closing music start to play. The host asks you to give your website one more time. What do you say? Here are 7 must-do's.

Amazon targets seniors, Baby Boomers with new store. 
It seems Amazon has caught wind of post 50s' buying power. The e-commerce giant announced earlier this week a new store on the site targeting older adults. Called 50+ Active and Healthy Living Store, the online storefront is being billed as a one-stop shop for items that appeal to Amazon customers older than 50.

Chicago Tribune sends pizzas to Boston Globe newsroom.
We can't buy you lost sleep, so at least let us pick up lunch," a note from the Tribune's newsroom says. Boston Globe Magazine writer Scott Helman confirms to Poynter the lunch in question is pizza from Regina Pizzeria.

7 tips on how to write sticky, memorable blog posts.
These 7 simple tips will help you write sticky, memorable blog posts. The kind of posts that make your reader say, "Hey! I gotta read this!"

The hidden secret to zooming in closer on Google maps. [Lt. Columbo would have LOVED this.]Google Maps lets you zoom in pretty close for its mapped locations, but there's a secret way you might be able to zoom in even closer. Here's how.