Here are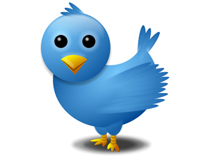 my Top 10 tweets from this past week, great for retweeting! If you missed these, follow The Publicity Hound on Twitter.
5 Ways To Create a Social Media Savvy, Shareable Opt-in Offer
Building an engaged email list is high on most savvy business owner's priorities, because email is the one platform that is unlikely to shift.  Twitter might become too glutted with messages to be effective, Facebook might enforce stricter publishing guidelines, and Pinterest might be  taken over by a new social media platform. Only one mode of communication with your ideal prospects remains steadfast in the face of a changing social media landscape: email.
How to print a hard-copy version of your Kindle book. 
Innovative free tools and top-notch professional services make  publishing and distribution easier than ever with CreateSpace.
New To Twitter? 25 Guidebooks, Resources And Tip Sheets That Turn Newbies Into Pros.
One of the most important lessons everybody needs to learn as quickly as possible on Twitter is how to manage your time most effectively. We know you're busy. So, to help out, we've put together a one-page list of all the best and most popular Twitter guides we've ever published on AllTwitter, which should really expedite you on your way.Here at 25 Twitter resources, guidebooks and tip sheets that you might have missed.
7 online promotion tools for those in visual occupations, like professional organizers.
While looking through old blog posts, I found one titled Professional organizer needs promotion ideas, and it generated lots of comments from my readers. But that was five years ago! Today, there are so many new tools on the market, most of them free, that let organizers or anyone else promote up a storm! Here are some of my favorites, with my ideas on how professional organizers can use them.
 How to change the thumbnail on your YouTube playlist
You can customize a YouTube playlist by choosing a thumbnail to be displayed whenever the playlist is shared. Decide which thumbnail you want to use out of all of the videos in that playlist.
Google+ Hangouts: The Next Best Thing
Hangouts are essentially video conferences, but with a casual twist. Google+ named it "hangouts" to give it a spontaneous feel. All you need to do is click "Hangout," invite a few friends and you can just hang out on video. If other friends see your hangout in their feeds, they can join and hang out as well. Of course even though the primary positioning is casual video chat, you can also use the technology for business meetings, conferences, brainstorming and one on one chats. Here's how to use Google+ hangouts.
Independent Publicists: Grab a free listing in Writer's Market Directory
Independent Publicists: If you need more clients, don't miss this opportunity.Writers Market, which publishes the giant annual directory, is compiling its 2014 Guide to Self-Publishing, and needs more independent publicists to submit information for a free listing.
Legal Help At Your Fingertips, Jim Adler, Texas Personal Injury Lawyer Launches New Mobile Website
Great example of a press release that uses anchor text well & piggybacks onto timely topic.
7 ways to boost Facebook Likes. [Infographic] 
The Facebook like is not the only step of marketing on the social network, but it is the all-important first step to engaging with potential clients and customers. Social media marketing suite Wishpond offered seven top ways that brands can boost their like totals.
Authors: Have guest blog posts ready to go & offer them 2 weeks before launch. 
Tips for pitching online outlets about your book.You want to reach out no more than two weeks in advance. You want to be close to release date. What we found is that most media outlets and reporters were so busy, focused on the here and now. Their schedules are so hectic that you don't want to be too far in advance … We had probably had four or five excerpts prepared, and the irony is, we received over 14 to 16 requests for custom placements.