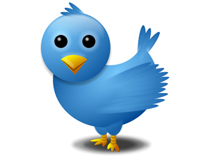 Here are my Top 10 tweets from this past week, great for retweeting! If you missed these, follow me on Twitter.
30 PR experts you should follow on Twitter.
If you're like me, you like to follow people on Twitter who provide valuable information you can use and learn from. Because this is a PR blog, I thought I'd share what I believe to be the 30 PR experts you should follow on Twitter.
BlogTalkRadio: A huge rip-off or a handy resource? Weigh in with your opinion.
Dave Jackson has step-by-step tutorials that walk you through the entire podcast process. So he isn't just a podcaster with an opinion. He knows his topic well.
6 tips to discourage Google from classifying your press releases as spam.
As Google continues penalizing websites using manipulative tactics to artificially boost their search rankings, PR pros should be jumping for joy. After all, the whole point of the year-old Penguin algorithm update is to reward websites that are producing valuable content on a regular basis by making them easier to find.
Fake Twitter followers become multimillion-dollar business.
Far from slowing, the market for fake Twitter followers seems to be taking off. Despite efforts by Twitter to check for fake accounts, the underground market is becoming more sophisticated.
Make your blog readers really love you. Promote them! Love these 5 tips from Adrienne Smith.
Blogging is about building communities.It's about creating enough valuable content so that your readers will want to keep coming back time and time again.It's about keeping them on your blog long enough so that they'll want to read post after post because you always give away the goods.
6 places video creators can find royalty-free music.
A great soundtrack can take your video project to the next level. Finding inspiration is easy; the hard part is finding music that's affordable and doesn't violate any copyright laws.
7 places to stay off the sauce if reporters are present.
Journalists and booze don't mix. Just look at what happened to Gen. Stanley McChrystal, who was dumb enough to let an investigative freelancer for Rolling Stone into his inner circle and conduct a tape-recorded interview—over drinks.
5 reasons to say yes if a journalist asks you for an email interview.
As more newspapers and magazines cut staff, don't be surprised if a journalist who you pitch—or one who finds you online—emails you and asks: "I'm writing an article for The Daily Tattler, and I'm pressed for time…
The Top 50 Social Media Power Influencers, 2013.
The list had some surprising names, some omissions and the heroes of social media.
Step-by-step tips on how to add an opt-in box to your LinkedIn Company Page and profile.
Thank you Wayne Breitbarth for these handy tips on how to get more subscribers.