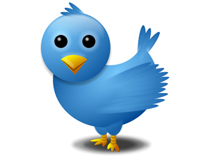 Here are my Top 10 tweets from this past week, great for retweeting! If you missed these, follow The Publicity Hound on Twitter.
23 compelling reasons your business needs a blog
Setting up a blog for your business requires a lot of valuable time and effort, and the hardest part is starting. Help is on the way. This post lists 23 reasons you should be blogging. It should be sufficient incentive for you to start blogging ASAP.
Holiday Newsletters for Business: How-to Stay Connected and Engage Readers
The holidays are a great time to say thank you, and an enewsletter can be a great way to say thanks and give credit to those who contributed to your success.
Business Blogging Etiquette: How To Properly Use And Share Other People's Ideas
You can publish a blog post in an instant. But pause first and commit to using ethical practices and building good relationships across the web.
Define Your Niche In 5 Easy Steps
As a blogger, defining your niche might be the most difficult task you face. However, it is the most important one.
Blogging Challenge: Find a Blogging Buddy
Having a blogging buddy can help you make sure you're blogging regularly. The challenge is to work on developing mutually beneficial relationships. Sometimes this takes time, and you often have to give more than you receive, especially at the beginning.
Publish, Release, Launch: Some of The What and When of Book Publishing
Why is a published on a certain date? For marketing and publicity reasons, to get books out there when they will be featured most prominently, and when the media are interested in what the titles and authors have to say.
How to Calculate the Value of Your Blog
Understanding your blog's value can help you determine if you want to invest more on its development, adjust your blogging strategy to make it more effective, or simply cut back on your investment entirely.
How to Carve Out Your Niche in the Proverbial Rabbit Hole
It's the deep niche that differentiates you from competitors. Opportunity presents itself because you know where you fit in within the niche.
Making the Sale: How to Sell More on Your Website
Think of your website as a brick and mortar store. If Macy's or Barnes & Noble created roadblocks to buying, they'd hurt the sales process. Authors often assume that a website store is different. It's not.
Google Makes Mobile Optimization a Visible Search Advantage
Google has updated search results for mobile users to highlight websites that are optimized for mobile. Pages with mobile optimization will be tagged with a "mobile-friendly" label in the search results.