Here are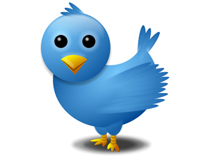 my Top 10 tweets from this past week, great for retweeting! If you missed these, follow The Publicity Hound on Twitter.
10-point checklist for editing your own copy.
What do you include in your Spelling, Punctuation, and Grammar Revision Checklist? What resources do you keep (and use!) in your writing space?
5 things that have changed in media relation, and 5 things that remain the same.
The public relations tactics needed to sweet talk editors and writers into covering your news have remained surprisingly constant. What's changed more than anything are the pitching targets and pitchable opportunities. Here are five things that haven't changed about media relations, and then five things that have.
How to close a LinkedIn account, or merge two of them.
If you find yourself with two LinkedIn accounts, you can close one and move your connections to the other account.You can close a LinkedIn account by logging into it, clicking your name at the top of the page and choosing Settings from the menu.
Comment on Facebook directly from Bing.
Users who have connected their Facebook accounts to Bing are now able to comment and like friends' relevant status updates directly from the search page.
5 reasons your search traffic is declining. [And more in Comments section.]You might have noticed that your website traffic is slightly diminished but can't seem to put your finger on just why. Here are a few things that might help explain this decline.
Top 75 Must-Read Online Marketing Blogs.
75 MORE must read blogs for you to consume that cover marketing and business inspiration!
How Marketing Legend Guy Kawasaki Manages His Social Media Presence
This is how Guy Kawasaki manages his social media presence as of May 2013.
Short video on how YouTube's new paid channel works.
YouTube just turned on their PAID CHANNELS program. That's right, you are now able to pay for content at YouTube. What this means to future content developers is not yet known.
Helpful recap of major announcements at Google's annual conference.
See what the critics have to say at Google's IO conference. Last year's over hyped skydiving was replaced by down to earth by grounded product enhancements.