Your digital business card, just like your printed business card, is your only chance to make a great first impression.
That's especially true for your Google+ hovercard, that mini business card that pops up when you hover over someone's name, like this: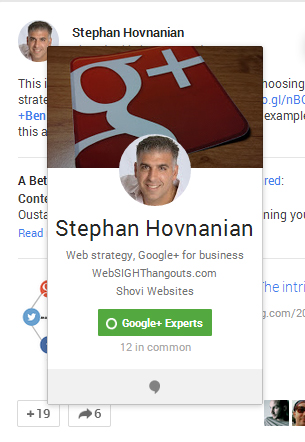 If you slapped yours together quickly like I did when I joined Google+ and created my profile, the 10 minutes it will take to turn that hovercard into an impressive branding tool will be well worth it. This post refers to your Google profile, not your Google page.
Why the Hovercard is Important 
The hovercard shows up in at least two dozen places on the web, including all posts on Google+, all comments, lists of people and recommendations from Google, Google Hangouts, and lots more.
I recently met Stephan Hovnanian, one of the most helpful social media buds on the planet, in the Google+ for Small Business Group and read his blog post on the Google Plus Hovercard: the ultimate personal branding tool. (His hovercard is above.)
It dawned on me fairly quickly that I was missing a golden opportunity to use my hovercard to promote my expertise and tell people what I do and how I can help them, in hopes that they'll add me to their circles, share my content, and share their content with me. So I set to work changing it, as Steve suggested. 
The "Before" and "After" Versions
Before: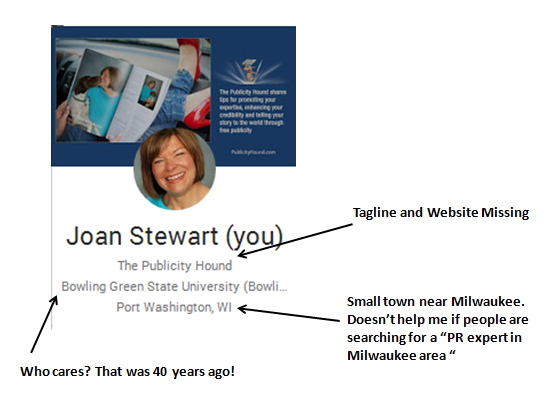 After: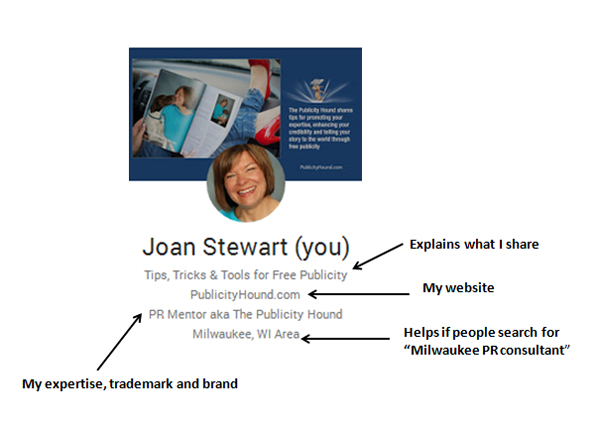 What a big difference a little tweaking makes!
Now it's your turn. You can improve your hovercard and include whatever content you wish, but I'll give you directions in case you want to follow my lead. 
Follow These 7 Steps

Step 1: 
Log into Google+.
Step 2: 
Under the large photo at the top, click on "About" so you can edit your Google profile.
Step 3:
Find the "Story" section. Go to the bottom and click on "Edit." Write the tagline but keep it to about 40-45 characters. To see if it's too long, open a new browser and go to Google+.
Find your small round photo in a status update or comment. Click on it. The hovercard will pop up and you can check to see if the tagline fits, or if it trails off, like this…..If it trails off, shorten it! Don't leave people guessing how it ends.
Step 4:
Find the "Work" section. Then go to "Employment."   If you'd rather list your website instead of the name of your business or the company where you work, type the URL but don't use the "http://www". Instead of "The Publicity Hound" as my current employer, I changed it to "PublicityHound.com." I want people to immediately see my URL in case they want to visit and take a look around!  😉  
Step 5:
Find the "Education" section. If your education is important, then list the school most recently attended. My education isn't important. I'd rather promote my expertise and my brand. Under "present" (which means present company where I work), I typed "PR Mentor aka The Publicity Hound." Make sure this fits and that the end doesn't trail off. And make sure the box marked "Current" is checked so it doesn't say "attended" on the hovercard.
Step 6:
Find the "Places" section, which has the photo of a map. Under "Currently," you can list your city and state if you wish. But Port Washington, the town where I live, is so small, that I changed it to "Milwaukee, WI Area."  That helps people find me if they're searching for "a PR consultant near  Milwaukee." You can also include a region, as Steve suggests, if that's what people would be searching under.
Step 7:
Proofread everything.
 
Ignore This View
I kept getting tripped up when, as I was editing my card, I was looking at the left side of the large photo.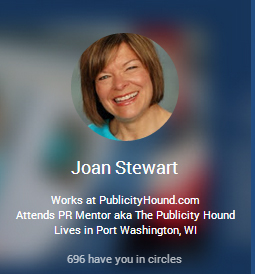 Don't look there or you'll get confused. Open a new browser, find your avatar, hover your cursor and look at the actual hovercard. 
OK, that's how I did it. Now let's see what you can do. If you improve your hovercard, link to it in the Comments section and explain what you did differently.
If you like this post, it's perfect for sharing on Google+, don't you think? 😎  
 *     *     * 
This is Tip #34 on my Pinterest board 50 Tips for Free Publicity.
Each tip explains how to use traditional media for free publicity or social media to share content and build a loyal following of raving fans.  
Each tip also links back to one of my blog posts, or to a video on YouTube where you can learn more about that tip.
If you like the Pinterest board and think your followers would find it helpful, share it with them. And don't forget to follow the board!