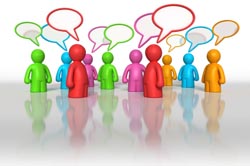 Mickie Kennedy's excellent post Blog commenting for PR–do's and dont's, reminded me about something that every smart Publicity Hound do. 
State your expertise whenever you comment.
For example, if I'm commenting on a post about how to write well, I'll start by saying…"As a publicity expert who worked as a newspaper writing coach for many years, I disagree with…."
Here are ways to state your expertise:
Have you written a book on the topic?  If so, say so.
  
Are you a speaker or trainer?
    
Are you a consultant?
   
Have you written more than two dozen articles on the topic?
  
Do you have a Facebook Fan page devoted to this topic and does it have a large number of fans? (Be sure to link.) 
Mentioning this just might tempt people to click the link.
When Patsi Krakoff was my guest expert on the webinar "Time-saving Tips for Smart Business Blogging," she mentioned the value of comments, especially for people who don't yet have blogs. I spend as much time as possible commenting at other people's blogs. In a few instances, the bloggers have liked the comments so much that they extended an invitation to me to be a guest blogger.
How much time  do you spend comnmenting at blogs? Have you seen a good return on your investment of time? If so, what has happened as a result?