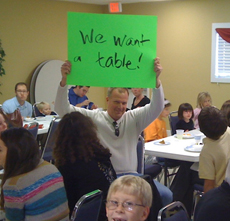 Looking for a social media site where members of your church can recruit volunteers, share prayers on the Prayer Wall, and announce the next Friday fish fry?
Compete to win one of 28 remaining slots offered by The TableProject and your church can have its own platform immediately.
How to Enter
First, host a get-together like a potluck at your church, or ask people to bring their own food. Seat them at tables, or preferably one very long table, and have someone hold up a sign that says,  "We Want a Table." Post the photo on Twitter with the words "We want the @table!"
You can read the rules and the Manifesto and see photos already submitted. The one shown here is from Cornerstone Church (city unknown).
The Table is currently in limited release, and churches can't get an account right now unless they participate in the Twitter contest. So far, 22 churches have accounts and are experimenting with them and offering feedback before the platforms are offered to churches everywhere.
As a bonus, the largest get-together (longest table) wins four hours of free consulting with the Table team.  (So far, the longest table is 64 feet.)
Sounds like a fun contest, and I love the photo idea. A hat tip to PR guy David Niles of Brookfield, Wis., for this one.
Promote Your Church Events
Churches and other nonprofits can learn more about how to promote events and anything else they're doing at my webinar "60+ Places Offline to Promote Your Product, Service, Cause, Issue or Event to Build the Buzz and Encourage Others to Promote You" on Nov. 23. Register here.