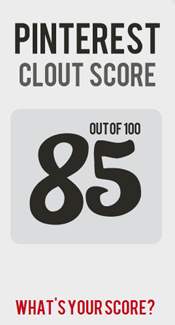 Pinterest, the shiny new bauble in the social media world, now has its own "influence score," similar to the Klout score.
It's PinClout and it will rank your influence on a scale of 1 to 100. It measures factors such as how many followers you have, how many people you follow, and how many likes you have accumulated.
Start by creating a free PinClout account here and provide your Pinterest name.
 
PinClout will send you a confirmation email.
 
Click on the and log in.
 
PinClout will calculate your number of pins, repins, how many people you follow, how many people follow you, your likes comments and boards and deliver your score.
I've written before about the various sites that are branding us like cattle with "reputation scores" and this one more of what eventually will be a very long list. I just started using Pinterest so I can't share any of my pesonal experiences with that site or with PinClout. 
What do you think of PinClout? Too early to judge? Based on the popularity of Pinterest, will PinClout be a major player that determines our overall "influencer score"?  Have you seen your PinClout score rise or fall?  How are you using PinClout in your publicity or PR campaigns?