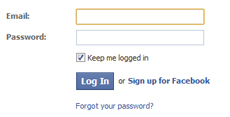 Career counselors, resume writers, HR directors, labor lawyers and job-seekers:
If you want publicity, jump head-first into the debate over whether companies should be asking job applicants to turn over passwords to their accounts on Facebook and other social media sites.
Even better, explain how you're advising job applicants. Should they do as they're told, so they stay in the running for a coveted job? Or shouldn't they, and risk making the final cut?
Blogs, news articles and Facebook are all buzzing about this story, and the mainstream media is embracing it. Check out these stories from CBS MoneyWatch, The Los Angeles Times and The Washington Post.
Violates Facebook's Terms of Service
The Post article mentions that giving out Facebook login information violates the social network's terms of service, so that might me a a good excuse for job applicants to use if they refuse to turn over the information. Legal experts said the legality of asking for passwords is uncertain.
The article also said that the Department of Justice regards it as a federal crime to enter a social networking site in violation of the terms of service, but during recent congressional testimony, the agency said such violations would not be prosecuted.
I'm not an attorney or a career counselor. So what you tell the media is up to you. But this is the perfect opportunity to be "the local angle" to a national story. Even if the issue is creating angst and uncertainty for you, and you're willing to go on record saying that, publicity could be yours for the asking.
You also might consider telling job applicants that, before they apply for a job, how to find out if companies ask for passwords during job interviews.
     
     
     
Media Outlets Worth Pitching 
Here are media outets to consider pitching:
Your local newspapers. You're the "local angle" to a national story. Call the city desk and offer to be a a source. You can also write a letter to the editor.
   
Local TV stations.
   
Drive-time radio shows. This is a GREAT topic for radio because it's so controversial.
 
Blogs. You might even consider pitching a guest blog post, assuming you have enough to say about the topic.
 
Trade magazines
 
If you're a career counselor or a labor lawyer, are you offering yourself to the media? How else have you piggybacked onto this national story?
Are you unemployed and willing to turn over your passwords? If so, this can be fabulous publicity for you, too, and a chance to get in front of potential employers. Are you willing?
The Comments section awaits.