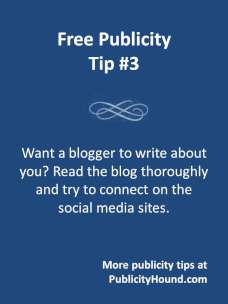 Trying to get in front of influential bloggers and catching their attention isn't always easy. This includes journalists who blog.
Let's say you want to pitch a story about your company to an A-list blogger in your industry. Your emails go unanswered.
Have you tried connecting on the social media sites? I follow a lot of social media bloggers on Twtter, and I'm betting some of them would respond far more quickly to a direct question on Twitter than they would if I simply emailed the question to them.
My email would probably get lost in the hundreds of other emails that clog their Inbox. But if they're fanatic about Twitter, and they're on top of their feed constantly, they'd see my question and probably reply. That could be the start of a conversation that might not stand a chance if we were emailing. 
You can get their attention by:
Asking them a question about their work. 
 
Commenting on their content.
 
Sharing anything of interest tied to their topic by retweeting, so they notice you in their Mentions.
 
Adding them to a Twitter list and then letting  them know you've done so. 
 
Do everything you can to build the relationship. Ask if they need certain types of sources. Or tip them off to trends in your industry. Building the relationshlip first, and then pitching, can sometimes reap big dividends.
 Not sure how to pitch them? There's nothing wrong with asking them on sites like LinkedIn, Twitter and Facebook.
Don't miss any of these tips! Follow 50 Tips for Free Publicity board on Pinterest. Or sign up for email updates from my blog, in the margin at right. 
     
     
A Tool That Can Help You: