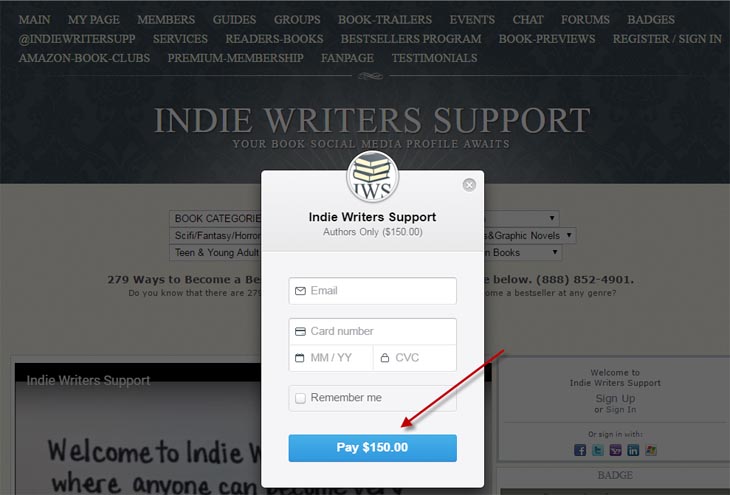 A book promotion scam that dates back to 2011 and promises authors massive exposure for their books has resurfaced.
And the person behind it is offering a new service regarding Listopia, the Goodreads feature that lets users create lists of books that anyone can vote on or add to, for free. 
A misleading email from "Writers Support Association," sent to me on Saturday, includes an article from well-respected book publicist Scott Lorenz of Westwind Communications. Scott has a long list of book publicity successes and clients who love him.  I've learned from him. I refer him to my clients. That's why I paid attention.   
My B.S. detector knew the email didn't look right. It started out with a well-written article about Listopia, under Scott's byline. But the promo at the end was poorly written and included typos. It encouraged authors to have "25 perfect Listopia lists" created for only $10. The lists would include their own books.
When I clicked on the link, it led directly to PayPal. No order form. Nothing that asked for my name, contact information, the name of my book, or genre.   
Scott wouldn't have sent a message like that. The $10 fee didn't sound right either. And Scott would have included his name at the end of the email.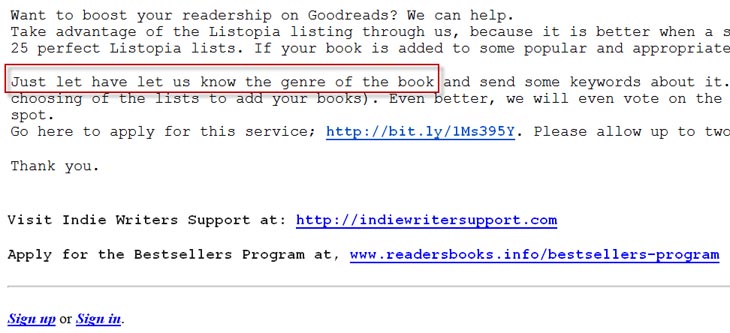 When I emailed Scott and asked him about the message, he said whoever sent it is using his legitimate article, How Authors Can Use Listopia to Promote Their Book, to promote their service.
2 More Questionable Websites
The email has two links at the bottom. One leads to IndieWriterSupport.com. You scan see the screenshot at the top of this post.
Without first explaining the service offered, the site tries to get you to pay $150 via PayPal, and then offers a long list of over-the-top claims of all the ways it will promote your books. Smart authors would know that a series of free commercials on social media, which this company promises, is a lousy way to sell books. But desperate authors will try almost anything, and pay almost anything, especially if it doesn't require a lot of work.
A quick Google search shows that Indie Writers Support is an old scam from about five ago. The guy behind it is Korede Abayome, who goes by several aliases and also runs ParaDon Books Publishing.The Indies Unlimited blog has detailed the problems with his assorted businesses. They include customers who say that after paying, services were never delivered. Be sure to read the comments. You'll also find a long thread about this in the Absolute Write forums.
I found Abayome by typing in the domain name that was in the "From" line in the email I received.   
I called the toll-free number listed at the Indie Writer Support site yesterday morning. After sitting through a recording of a weird song, it kicked me into voicemail. I left a message with my name and phone number but he hasn't returned the call. If he does, I'll update this post.      
The other link at the bottom of the email leads to the "Best Sellers Program" at ReadersBooks.info. Again, he nudges you to buy at the top of the page before explaining what you're getting. This time, it's a $250 "Best Sellers" program. 
As I followed the trail of digital bread crumbs, I noticed how amateurish his websites look and how many of the testimonials from authors include only a first name and initial. I found misspellings, typos and bad grammar. When I tried searching for names of some of the authors who offered testimonials, I couldn't find many of them.
Research Publishing Vendors Before You Buy
Bottom line: Your money is better spent elsewhere. If something sounds too good to be true, it usually is.
The book publishing industry is rife with scammers. Before spending money with any of them, do your homework.
Start with Google and search for the name of the company that wants your money.
If you can't find what you're looking for, ask a question in one of the author groups on Linked. My two favorites are the Author U and Book Marketing.
Finally, if you're in the publishing world, read up on scams. Here are three places to start:
Have you heard of this scam? What other advice can you share about how to avoid publishing predators?