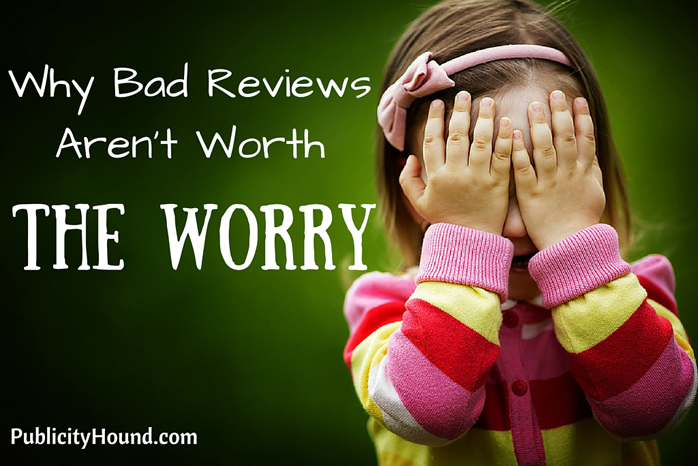 By Marcia Yudkin
Heartsick over negative reviews on Amazon or Yelp? I want to tell you about an experience I recently had that, for me, put the phenomenon of reviews into perspective.
To cope with an early-morning flight, my husband and I booked a room at a Days Inn near our local airport. To get to our room after an unusually friendly check-in with fresh chocolate-chip cookies, we had to walk through a stripped-down, white-dusty corridor where construction workers in face masks were just quitting for the day. The next morning, the courtesy van dropped us off on time at our destination.
A couple of days later, the Days Inn asked me to review our stay on Trip Advisor. I often ignore such requests, but this time I wrote a few sentences, giving the place a four-star review and mentioning both the construction and the friendly customer service.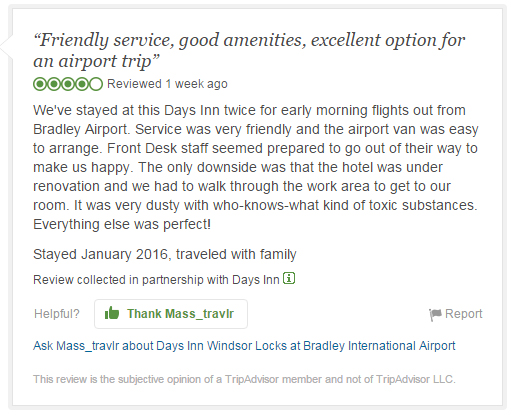 Someone else's review caught my eye and I found myself scrolling through other recent reviews of the motel, then reading them with greater interest. And what I saw made my mind spin into a revelation.
Going by the dates of the reviews, it was possible to see that the same objective condition, the construction, had a vastly different impact on different travelers.
"Worst place we ever stayed," said a one-star review, citing the construction. A two-star review complained, "Hotel was under major renovation, sheet rock dust and compound everywhere. At least half the hotel was under the construction project."
Yet another traveler gave it four stars, commenting, "Even while under remodel, check-in was professional." A couple, Doug and Nancy, wrote, "Great stay—renovations appear to be ongoing which was occasionally inconvenient. Hardworking and friendly staff," giving the place five stars.
What fascinated me was how some customers took an inconvenience or defect of the property in stride, while for others the circumstances wrecked their experience. Clearly some folks walked through that corridor with barely a shrug or just a momentary frown while for others it prompted a deep, lingering scowl.
And what caused that difference? Just as clearly, it had to be the mood, habits and expectations that people brought with them to the motel.
It's the Same With Your Books and Products
And that's exactly what happens with any product or service, whether or not there's any obvious flaw like the construction, I realized. You do the best you can (presumably), and people react unpredictably and uncontrollably out of their mindset and the totality of who they are.
One reader complains about geographical flubs in your mystery novel, giving it two stars, while another reports having been transported by the setting.
One patron grouses that the server at your cafe never smiled, while another, focused more on taste than on personality, raves about the scrumptious scones.
One traveler finds your B&B a good value for the money while another pronounces it horridly devoid of special touches.
And apart from perceptions, some people habitually allow a single irritant to bother them enormously, put them into a foul mood and trigger angry blame. Others are more easygoing and forgiving throughout their everyday interactions.
Some people take care to craft a balanced review. Other customers use the reviewing process to vent. On Amazon, the mega best-seller "Fifty Shades of Grey" has more than 33,500 reviews—almost half 5 stars and almost one-fourth 1-star.
Prospective Customers React Differently Too
In short, reviewers are people, not necessarily disembodied, fair-minded critics.
And the same goes for prospective customers reading the reviews. Some may get scared off by a couple of nasty comments, while others happily overlook complainers. Some feel reassured when they see your reply to the bad reviews while others wish you hadn't tried to defend yourself.
Be someone who takes all this in stride. You can't control any of this. It's life.