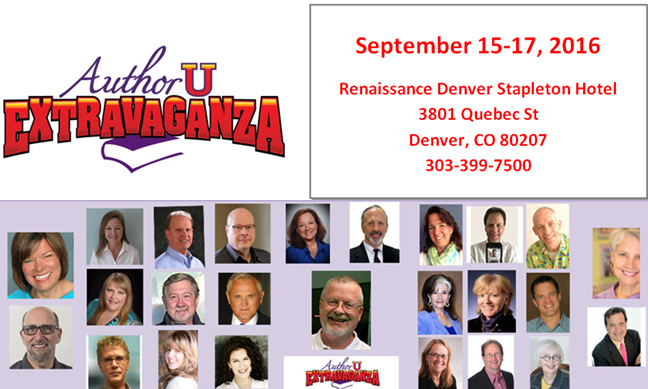 If you're serious about book publishing, here's an event you can't afford to miss.
It's the Author U Extravaganza in Denver Sept. 15-17. More than two dozens speakers who are experts in all aspects of publishing will teach you about important trends, tools and techniques. This is my very favorite author event and I've spoken there almost every year for the last several years.
Here are 11 reasons you need to attend the Extravaganza if you have a book that's seeing sluggish sales, or if you have an idea for a book that you want to someday publish.
1. Book marketing expert John Kremer, author of "1001 Ways to Market Your Books," is doing the Deep Dive Dinner Workshop on Thursday, Sept. 15.
John is launching a new edition of his book, and his session will give you a thorough update of what's new in the world of book marketing. I wouldn't miss this for the world. 
The theme of this year's Extravaganza is Dare Greatly. 
John has shown authors how to date greatly for years. He has mentored authors who have sold over a billion books, and he's founder of the Billion Book Initiative to help the next generation of book authors sell another billion books. Are you ready to Dare Greatly and be part of this next generation?
2. A line-up of all-star experts who will teach you.
I know most of the experts who are speaking at this event. Joel Friedlander will convince you why you need to start blogging. Matthew Taylor will explain how to craft stories and use them in more than just your book. Brian Jud will explain ways to sell your books outside the bookstore. His tips will include ways to make those super-profitable bulk sales. You can see the entire Extravaganza agenda and list of speakers.  
3. You'll get solutions to your nagging publishing problems.
Can't get your books into bookstores? Amy Collins will convince you that libraries are among your best customers. And she'll explain who to contact at libraries, what to say, and how to convince them they need your book on their shelves.
Ripping your hair out over book fulfillment? Learn from Bret Ridgway who will make getting your book into readers' hands a lot easier.
4. Speak with the experts when they're off the stage.
Ask the Experts (the speakers) takes place during lunch when you will have at least one speaker/expert at your table. You can book individual time throughout Friday and Saturday for a Pick Their Brains session. Ask the Experts and Pick Their Brains are open to all attendees and include lunch.
5. Learn how to become an expert in your niche and use email to create raving fans.
Authors write books. Authors who are experts in their topics write books, get paid speaking engagements, teach classes online or offline, attract clients with coaching and mentoring programs, and more.
I'm presenting a session on how to become an expert in your niche at 3 p.m. on Thursday, Sept. 16. I'm also teaching the sunrise workshop from 7:15 to 8:15 on Saturday on "How to Use Email to Create SuperFans and Sell More Books." 
6. Schedule a photo session with one of the most creative photographers on the planet.
Award-winning photographer Ashlee Bratton will be onsite for hour-long photo sessions. For $250, you'll get a huge package of photos perfect for your website, media kit and marketing materials. I bought her services at last year's Extravaganza and have a wide variety of fun photos. Here's one I use on my Facebook page. Here's another I use on the giant trade show banner I created.
If you book a session with Ashlee, read my tips on how your author publicity photos will come alive if you use props. Take props with you to the Extravaganza!
7.  You'll be entertained while learning on Friday night and Saturday morning. 
Best-selling author Mara Purl and Christopher Law will present a stunning two-person play that's poignant and funny. She's in the publishing business. He's in the fishing business . She's in the city. He's in the outer islands off the Irish coast.
A perfect match of opposites who attract? Or a disaster waiting to happen? Escape to Ireland, Wales and the British Isles on Friday night .
On Saturday morning, join Mara for a dynamic sub-text class, complete with interactive scene performances by Mara and Christopher.
8. You won't have to worry about food. It's included in your registration.
This is one of the selling points for the Extravaganza. No running outside the hotel for a quick bite to eat before the next speaker hits the stage. No worrying about long lines at the local Subway during the lunch hour. The food rocks. 
9.  There's free wi-fi at the hotel. 
No worries about extra charges tacked onto the room fee. You'll have access to free wi-fi in the conference room because I know you'll be dying to check your email. If you're smart, you'll leave the email for later. Don't miss anything the speakers are sharing from the stage.    
10. Judith Briles, the brains behind the Extravaganza, has negotiated a special rate of $119 at the Renaissance Denver Stapleton Hotel.  
But the discount disappears on Wednesday, Aug. 24. Book now by calling 303-399-7500 and ask for the Author U discount.  If you fly into Denver and rent a car, Judith has also arranged for you park free in the hotel garage. There's a free shuttle from the airport to the hotel.
11. Take advantage of the special discount for conference registration.
I've been given a special coupon code that will save you $270 off  the three-day Extravaganza registration. This is HUGE. But you must register by Sept. 1.
Go to the Registration page here. You will note it has $545 for full registration (Thursday Deep Dive through Saturday afternoon). Judith will add the Eagle or Eaglet Thursday Day sessions, another $75 value. Complete it and click Next Step. Then enter AUSP2016 code. You will be charged only $350, a terrific rate for three full days of author education and fun. Savings: $270.
I'll see you at the Extravaganza!