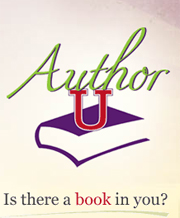 When I attended Judith Briles' Author U last year as a presenter who taught authors how to use social media to promote their books, I practically filled a notebook while seated in the audience listening to the other speakers. It was a lineup of the best of the best in the publishing industry.
This year promises to be no different. If you've written a book, you're in the process of "birthing" one, or you're just thinking of writing one, Denver is the place to be May 3-5.  Briles puts on one heck of a conference.
Here's the lineup:
Florrie Binford Kichler will forecast what's happening in the indie world.
Publicity expert Steve Harrison, who hosts the National Publicity Summit and the Quantum Publicity workshops, will explain how to get every producer to call you.
Brian Jud will speak on how to market fiction, from craft fairs to summer festivals.
Social networking expert Georgia McCabe will give dozens of tips for promoting your book in social media.
Marty Dickinson will show you how to take your book to the next level with Google+.
Mobile marketing expert Mary Barnett will help you create a marketing platform with your phone.
Nick Zelinger will show you the latest trends in book design.
Dan Pacheco will share the inside secrets of why the Huffington Post and the local Denver Post are selling gazillions of books and how you can immediately implement their techniques. 
Janita Cooper will show you how to create audio and video from your books, and snazzy book trailers too! 
Daniel Hall, the master of all things Kindle, will show you how to do it yourself whether you want to create an ebook from scratch, or convert a printed book.
Here are five more reasons you should consider attending:
1.  All three days are packed with solid content. This is not a pitch fest.
2.  They feed you. You get a continental breakfast and lunch Friday and Saturday, dinner Friday night, and dinner on Thursday for those who sign up for the special John Kremer dinner workshop. 
3.  You'll find convenient electrical outlets at all the tables. So leave your 25-foot extension cord at home.
4.  Wifi is free. 
5.  It's well-organized. Briles didn't miss one little detail last year. 
Register here before it's filled. I'm promoting Author U as a compensated affiliate because book writing and publishing is just too difficult to attempt on your own, without guidance from pros of this caliber.