Website owners who ask visitors to complete an online form, and then simply thank them for doing so, are missing a powerful opportunity for a little publicity, and possibly some extra sales.
If visitors have completed the form because they want more information about your product or service, or they're asking a question, or they want a quote, they're already interested. And if they're already interested, they might know other people who would want to know about your website.
GroupHigh, a subscription service that helps you find influential bloggers in your industry quickly, has several buttons on its site that lets visitors click and complete a form so they can get pricing information, or answers to questions. When I clicked on the button for pricing info, here's what popped up: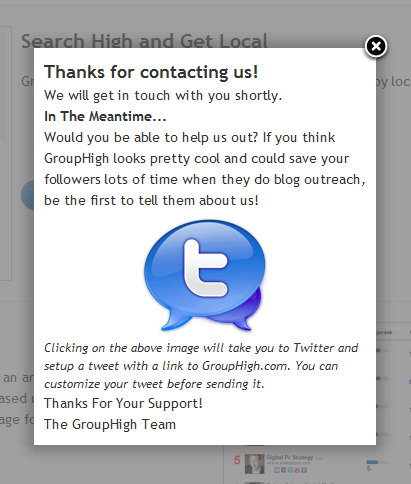 When I clicked on the Twitter icon, it took me to Twitter so I could log in: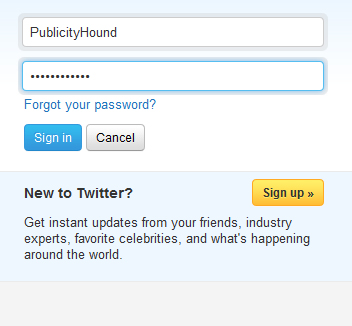 After I logged in, here's what appeared:

I could either hit the "Tweet" button or customize the message.
Andy Thiemer of GroupHigh said it's a little too early to see what kind of effect the reminder has on spreading the word about his company. But I love the idea, especially because you're reaching out to people who already have reached out to you!
Instead of asking for a tweet, you could lead visitors to your Facebook page, ask them to Like it, and tell them what they'll get for doing so. You could ask them to subscribe to your ezine. Or you could lead them to your blog where they can read the latest blog post. The possibilities are endless.  
There are probably several different ways to add this thank-you box to your website. Ask your techie for help.