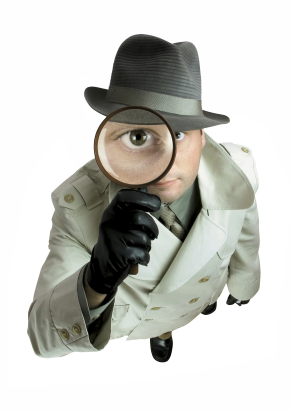 Writer Ed Davis asked me to pass along tips on how coffee shops can do competitive intelligence online, for an article in Specialty Coffee Retailer Magazine.
These tips work just as well for any retailer selling online or offline, or anyone who wants to spy on their competitors, or any Publicity Hound who wants more publicity than the competition:
1. Start at your competitor's website. 
They might have an RSS feed (subscribe to the feed) or links to their social media profiles or a blog. 
While you're there, be on the lookout for any customer service type things you see that make it easy for customers to contact or interact with them.  Example: A phone number placed prominently on the homepage.  If you see something you like—an introductory video, a "contact us" form, etc.—steal the idea and add it to your own website (but don't plagiarize).
2. Create Google Alerts.

Create separate Google Alerts for every major competitor's business name and website URL.  Google will deliver to your email inbox, as often as you wish, information it finds on the web about your competitors or their website.  
When creating the Alert, choose "Everything," "Once a day" and "Only the best results."  Be sure to set up Google Alerts for your own name and business, too, so you know instantly what people are saying about you online.
3. Look for their blog.

Are they blogging?  If so, subscribe to the RSS feed.
Check to see how many comments they're getting.  Are the comments positive or negative or both?  Do they seem to have a loyal following?  Join the conversation if you wish, but do not post a snarky comment at their blog under your own name or a fake name.  Often, it's more valuable to just sit on the sidelines and watch.  
4. Look on Facebook. 

Do they have a Facebook profile or Fan Page?  If so, become a friend and a fan and watch closely to see what they're sharing with their followers. Read comments from their friends and followers. Are they offering  discounts, coupons or anything special for their fans? (See 11 Ways to Avoid Missed Opportunities on Facebook)
5. Look on Twitter. 
If they have an account, follow them. Their tweets might tip you off to new products and services they'll be offering, events they're hosting, etc.
Have they created Twitter lists? If so, review them. You might see lists that include marketers or coaches who they're learning from, or others who are passing along valuable information that you, too, can learn from. (See How to Use Twitter Lists & Directories to Generate Publicity & Build Your Brand.)
6. Use SocialMention.com.
This is just like Google Alerts, but for social media.  Receive free daily email alerts of your brand or your competitor's brand, company, CEO, marketing campaign, etc. Social Mention monitors more than 80 social media properties including Twitter, Facebook, FriendFeed, YouTube, Digg, Google, etc.    
7. Use Grader.com.
This website has a nice selection of tools that help you measure and analyze your marketing efforts, or those of your competitor.  You'll find tools for measuring on FourSquare, Twitter, Facebook, a blog, and more.
8. Search for their videos.
Have they created videos that are pulling in traffic to their website? Go to YouTube and search under their name. Or, do a Google search for their name and then click on "Videos" in the upper left corner.
9. Check their search engine ranking.
How well do they rank on  Google's organic search list? Let's say you're a coffee shop in Port Washington, Wisconsin, where I live. Search "coffee shop + Port Washington, Wi." and compare how each of you rank.
There are dozens more tools for keeping track of what your competitors are doing, but these are the best and easiest places to start. What tools do you use to spy?