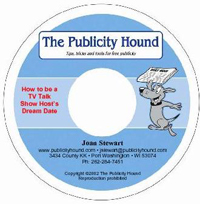 I'm clearing my inventory of older CD titles, and this is your chance to grab as many as you wish at 80 percent off the original price.
In most cases, a small percentage of the information is out of date. But all products are chock full of tips, resources, tricks and tools that do-it-yourself Publicity Hounds can still use today.
The list includes some of my most popular titles like:
Briefs, Fillers & Quizzes: How to Use Them and Why Editors Love Them
   
How to Write How-to Articles
   
How to Pitch the Best Bloggers & Create a Publicity Explosion
   
Secrets of Perfect Pitching to Reporters

Titles for Authors
Authors, you'll find plenty of titles on the list to help you promote and sell your books:
How to Build a Publicity Platform That Leads to a Six-figure Book Advance
  
How to Revive a Dying Book Marketing Campaign
 
How to be a TV Talk Show Host's Dream Date
   
   
Titles for Niche Audiences
Check out these titles for Publicity Hounds in specific industries:
24 Ways to Attract Clients to Your PR Practice
   
How Residential Real Estate Agents Can Profit from Free Publicity
   
How to Work with the Travel Media
   
Kick Up a Media Storm (for Professional Speakers)
   
Publicity Tips for Restaurants, Chefs & Foodies
   
   
Social Media Tips, Too
You'll even find titles that will teach you social media strategies:
Can Your Social Networking Profile Pass the 10-Second Test? 
   
How to Use LinkedIn to Promote Anything—Ethically and Powerfully
   
How to Use Twitter to Amass an Army of Followers
   
Get into the Inflight Magazines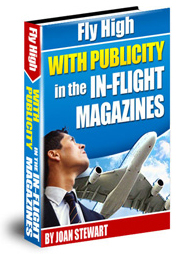 I've also drastically reduced the price on "Special Report #29: Fly High with Publicity in the Inflight Magazines," regularly $97, which includes contact information for more than 50 inflight magazines.
Grab the PDF file for only $27  $19.40 and receive the bonus audio that features an interview with an editor explaining how to get into one of the biggest inflight magazines. The entire database was last updated two years ago and it will not be updated.  
This list of DIY publicity tips doesn't even scratch the surface.  See the entire list of publicity products and use the coupon code closeout80 when you check out.
When they're gone, they're gone!