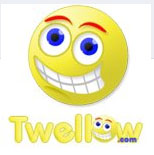 Looking for people in a certain niche on Twitter, but confused about how to find them?
Twellow to the rescue.  It's like the Twitter Yellow Pages, with hundreds of categories and some really obscure niches. I spent several hours there recently looking for people who one of my corporate consulting clients can follow.
Twellow grabs publicly available messages from Twitter. It analyzes the tweets and places the writer into several categories. That helps you narrow your search into specific niches where you can find who you are looking for.  We're talking really narrow niches. Like Tourette Syndrome, fence repair, numismatics, sake and rockabilly.
While you're there, check to see if you're registered.  If not, get onto Twellow pronto!  But you must have a Twitter account first.
If you're already on Twellow, you can be listed in 10 categories, delete categories that have been assigned to you, or add categories where you aren't listed. Read the Twellow FAQs.
Here are six powerful ways to use Twellow:
     
    
1. Be listed in 10 categories.
When you create an account, you can choose to be listed in a maximum 10 categories, which can help even more people find you. Choosing 10 from the hundreds of topic categories available isn't as difficult as you might think. Here are all my categories:
2. Create an Extended Bio
It accompanies your Twellow profile and allows an additional 2,000 characters so you can better explain what you have to offer. You can see a Sample Extended Bio or read mine.
Because I have an extended bio, here's what visitors will see when they do a search for my name or Twitter handle ("Publicity Hound"). The notes in the yellow boxes are mine.
3. Include links within your Extended Bio.
Valuable links to your website, blog, or social media profile pages from this popular site will mean more Google juice. Take a look at the seven links I included in by bio, chock full of keyword phrases: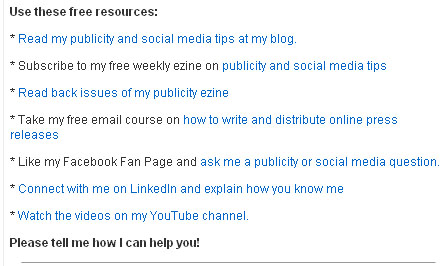 4. Use TwellowHood.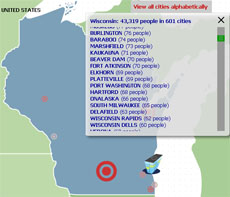 This giant map of the world lets you place your cursor on a continent, and then zoom in to locate who's on Twitter in a certain city. 
I zoomed in on Wisconsin, and a window opened with a list of cities where people on Twitter live. I searched for Port Washington, Wis., my town, and learned there are more than 60 fellow Twitters who live near me. They work as a virtual assistant, search engine optimization expert, digital photo expert, photographer, graphic designer and even a woman who I might hire to redesign the inside of my home, using things I already have in it.
You can use Twellowhood for business leads and to find joint venture partners.
Looking for the best deals in a city you'll be visiting soon? Use TwellowHood to find people on Twitter in those cities, follow them, and then ask what hotels, restaurants and tourist attractions they recommend.
You can also use TwitterLocal to find local Twitterers, though I prefer TwellowHood.
     
    
5. Read Twellow's Advanced Search Tips.
By using certain characters like an ampersand, quotation marks or a minus sign in your search, you can narrow it or broaden it to include people you might not otherwise find in a simple search.
For example, if you want to find all people on Twellow that identify themselves as having something to do with dogs OR cats in New York, try this:
(dog | cat) ("new york" | nyc)
Greg Lambert of 3 Geeks & a Law Blog offers some advanced search tips here.   
  
6. Use a Twellow sticker
Don't wait for people to find you on Twellow. Let them know you're there by placing these stickers at your website or blog. Choose from four standard colors, or customize your own.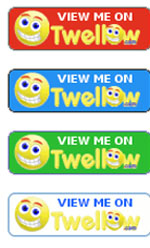 How do you use Twellow? What's happened as a result? Any tips for Twellow newbies?