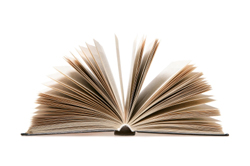 One of the biggest changes in the world of promotion is the ease with which you can contact journalists, bloggers or writers on social media sites and see a quick response. Many of these same people would let an email pitch languish in their Inboxes forever, unanswered.
That's why LinkedIn is a fast, easy place to look for book reviewers. Instead of targeting only the major reviewers for big-city newspapers, magazines and high-traffic websites, pursue book reviewers who authors aren't pitching as often. Many of them have audiences in very narrow niches. 
The world's largest business networking site has a variety of free tools that can help you find reviewers FAST, even in the narrowest genres. Here are six ways to do that:
1. Do an Advanced Group Search for book reviewers.
Yes, you can search Groups, but I prefer Advanced Search because you can narrow the list considerably.
Log into your account, click on "Advanced" next to the magnifying glass, then click on Groups on the far left, and type "book reviewers" into the search box. I found 22!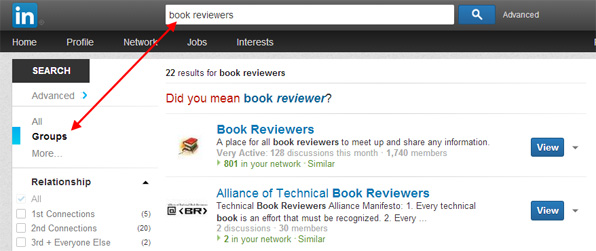 Some of them also include publishing executives such as editors. Be very careful how you use this.
Don't pitch inside these groups! The reason you're joining these Groups is so that you can send an email directly to a reviewer or editor via LinkedIn even if they are not connected to you. Some Groups might be open only to book reviewers.

2. Ask about book reviewers within your own Linkedin Groups.
Does anyone within your special-interest groups  know of reviewers at a specific publication? What about top reviewers on Amazon who review books on a certain topic? Or ANY reviewers on Amazon who cover books on specific topics?
3. Use LinkedIn's Advanced People Search to find book reviewers.
Many authors don't understand the value of this tool—one of the most powerful on LinkedIn!
Log into your account and click on "Advanced" next to the magnifying glass. Then click on People on the left.
Let's say I'm looking for people who review romance novels. In the Keywords box, I type the word "romance." In the title box, I type "book reviewer" and in the drop-down box below that I tell LinkedIn I want only "Current" reviewers.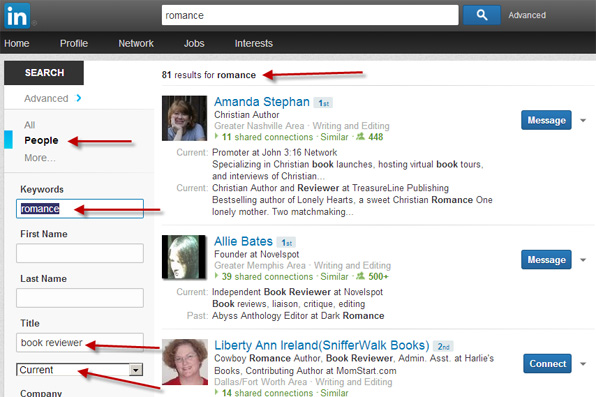 4. Ask for an introduction.
If you find a reviewer you want to contact but aren't connected, scroll down and look on the right side to see if you and the reviewer have a first-degree connection in common. If so, you can ask your mutual first-degree connection to introduce you.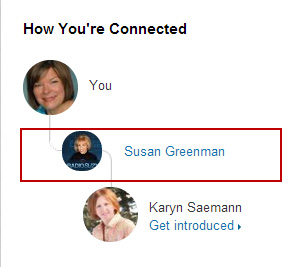 5. Find out what other Groups your favorite reviewers are in, and join them.
As you investigate each reviewer, scroll down on their profiles and look for the little icons that tell you which Groups they are in. Then join the ones that are a good fit. 
6.  Send a direct message to a book reviewer who is a first-degree connection, or use LinkedIn's Inmail if you are not.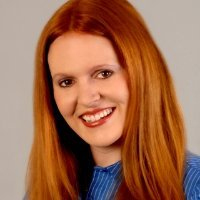 I wrote about how an author used LinkedIn's Inmail, not an agent, to land a book deal. Nataly Kelly stopped working with an agent who brought her no results and, instead, sent an email via LinkedIn to one of her first-degree connections who was a book editor. The result? A book deal from Penguin. 
Be careful with this one. Your pitch must be short and on target and immediately catch the book editor's attention.
Here's her pitch: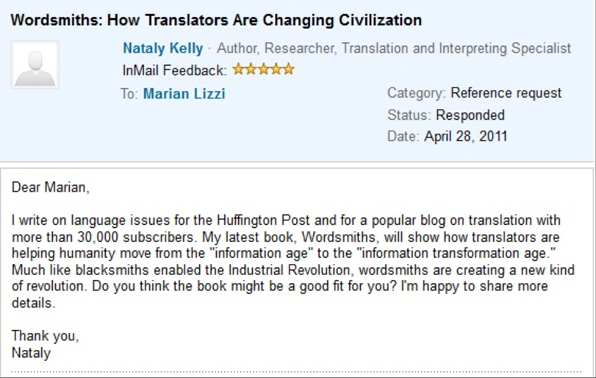 If you aren't connected, however, you can pay LinkedIn to send an email.  Inmail is a paid feature and costs $49.95 a month or $39.95 a month for an annual subscription. Learn how to use Inmail.
Those are my tips. What tips can you share about how you have either found a book reviewer on LinkedIn or built the relationship? If you got a review as a result, please share the link.