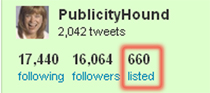 I've been inundated with questions from Publicity Hounds about how to use Twitter lists. 
Lists are all the rage right now, for so many reasons.
They save you time two major ways. First, they help you categorize, group and isolate the tweets of people within a specific industry, niche or topic so you don't have to search through your miles-long Twitter feed for their tweets. Lists also one of the most powerful research tools on the planet if you're looking for experts within a niche. 
  
They help you spy on your competitors and let you know instantly which influential people they're following on Twitter. Lists also help position you as an expert in your field. I'm on 660 lists, many devoted to the topics of PR, publicity and social media.  That's a ton of free advertising!
When I host the webinar How to Use Twitter Lists & Directories to Generate Publicity and Build Your Brand on Thursday, Aug. 26, I'll be discussing and illustrating dozens of tips, including these five ways to use Twitter lists in a publicity or PR campaign. You can use some of these tips even if you aren't tweeting:
Save hours of time researching  journalists, broadcasters, Internet radio hosts, freelancers, beat reporters, editors and others by looking for lists that other people on Twitter have created. Within seconds, you can even find lists of journalists in specific cities, like this list of Milwaukee media that Tom Snyder, president of a Milwaukee web design company, created on Twitter. (You can do this even if you aren't tweeting.)
  
 Want to get in front of influential bloggers who write about a particular topic? Save hours of time by finding them on Twitter lists that other people have created. (You can do this even if you aren't tweeting.) 
  
 If your favorite journalists, or journalists who you want to notice you, are on Twitter, and you have a Twitter account, create a "(Fill in the blank) Journalists" list  and add them. If you have a food-related story to pitch, for example, and you want to get in front of food journalists, add them to a "Favorite Food Journalists" list. And then let them know you've done so. They'll be flattered. This is a great way to start a relationship with journalists before you pitch them. 
   
Position yourself as a super-valuable source. Let journalists or bloggers who are interviewing you know about Twitter lists you've created where they can find other sources on a specific topic. They'll love you for doing this!
   
Pull journalists to your Twitter profile by including links to your own Twitter lists in your online media room.
I'll be sharing more tips like these, and giving you step-by-step directions on how to use Twitter lists and directories, during the webinar. If you can't make it, register anyway and I'll send you the replay link where you can watch the video, as well as the MP3 link if you'd rather listen on your iPod.
As a special bonus, you'll also get my special report "How to Use Twitter for Business to Network, Promote, Sell, Recruit & Profit."
This webinar is filling up fast because Twitter lists are such a hot topic. Hope to see you there.