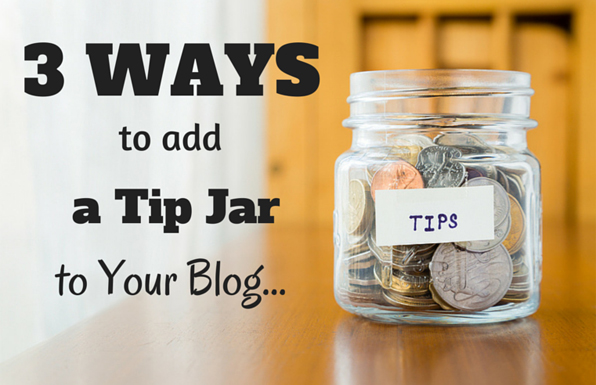 I drop spare change into the tip jar at the local coffee shop.
Sometimes I put a dollar bill in the trumpet case of the guy belting out a jazz tune on the corner of a busy city street.
I even tip the guy who drives me from the remote parking lot at the airport to the terminal.
This week, I tipped a photographer whose photo I downloaded from one of those free stock photo sites. It was exactly what I was looking for!
I'm a big fan of about a dozen bloggers, and I wouldn't miss anything they write. I'd contribute to them, too, but they don't have a tip jar at their blogs.
I don't either. That's because I generate revenue from several dozen products in my store and from training and consulting. Some bloggers dislike tip jars because they think it looks like the blogger is panhandling. Others, especially those who have an emotional connection with readers, find a loyal audience is sometimes willing to help pay the bills.  
A good example is Jim Hopkins, who wrote the popular Gannett Blog about news and other behind-the-scenes goings-on at newspapers in the giant Gannett chain. He told me he made $5,000 in one year from the tip jar at his blog. I wrote about it here.
Hopkins, started the blog after he was laid off. He has since stopped blogging because Gannett has spun off many of its newspapers and is primarily a TV giant with only a side interest in newspapers.
Tip jars are ideal at blogs that are raising money for a worthy cause, issue or charity.  
How to Add a Tip Jar to Your Blog
If you have a Blogger blog, you can find instructions here on how to add the tip jar to the sidebar of your blog. The five simple steps should take just a few minutes.
You can add a PayPal tip jar using instructions here.  
If you're a Plus or Pro user on Vimeo, you can use a tip jar to ask for donations from people who love your videos, and then embed the video into your blog post. You cannot accept tips on commercial or political videos. And you can't use it to accept donations for a political cause or payment for goods or services. Find full instructions here and a helpful and a step-by-step video here. 
More Ways to Monetize Your Blog
Tip jars are just one of more than two dozen ways you can make money from your blog. Learn about 26 other ways during the webinar I'm hosting from 4 to 5 p.m. Eastern Time tomorrow—Thursday, March 5. Register for "27 Ways to Monetize Your Blog." 
None of my tips will let you quite your day job, or even go from fulltime to parttime. But they'll help you add a few small streams of revenue. Who can argue with that?