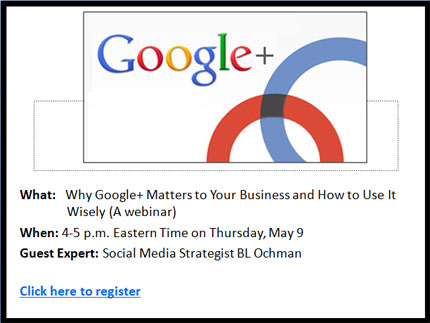 If you're resisting Google+ because you don't have time, you don't have patience to learn it, or you don't think you need it, this should change your mind: 
Google+ gives you a huge advantage over your competitors when it comes to ranking higher on the Google Search results. All things being equal, a competitor who's active on Google+ when you are not, will most likely rank higher.
Google+ is fast becoming the backbone of Google, and participation there is more important than your activities on any other Google platform. 
Google's "+1" is similar to Facebook's "Share." The more +1's your pages and posts, the better you look in Google's eyes. All those "votes" let Google know that people are reading and passing along what you're sharing. 
Google+ integrates seamlessly with other Go0gle services such as Gmail, Search, Documents and YouTube.
You can write about your business in the About section of your Google+ profile. Explain what it's about, what you sell, why you're the go-to expert, and how you help customers. Google will use this as your page's meta description when it shows up in the search results.
The "Circles" way of segmenting friends isn't as cumbersome as it is in Facebook. And this makes it far easier to target a specific market with your message and content.
Google+ makes it easier to share content with the right people.
Google protects your privacy far better than Facebook does. Just look at the number of news stories Facebook has generated because of privacy problems. 
Google always asks for customer feedback. Facebook tells you what you must do. And if you don't like it, tough.
Many of your clients and customers, and others who might buy what you sell, are already on Google+.
Google's activity stream is perfect for sharing rich media content such as photos, video and audio. 
Hangouts, the video calling/conferencing feature, allows a group of users to meet across multiple screens. And you can now share desktops! 
The web album provider Picasa can also be connected to Google+. 
On your Google+ profile, you can link to your other social media profiles on sites like Facebook, Twitter and LinkedIn, thus giving those profiles more "authority" from Google.
When you comment on content other people have shared on Google+, you promote your expertise and encourage more people to add you to their circles, thus widening your audience.
Your employees can create their own Google+ profiles and post links to your website, share your blog posts and +1 your content. 
Google's Authorship means you can get your picture to show up in Search results. This makes your content more prominent and more credible and encourages people to click on YOUR link rather than someone else's. Even if you're not active in Google+, Google Authorship will still work, but you do have to set up your profile anyway. So why not become active on Google+ and reap all the rest of these benefits?
Bonus Reason: Google+ currently has 500 million users! Can all those people be wrong?
Convinced? Join me tomorrow, May 9, when social media strategist BL Ochman explains the nuances of Google+ and helps get you on the road to more exposure and better search ranking.