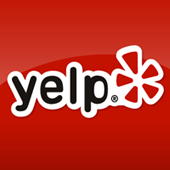 If you do business in your own community, start participating on Yelp, the popular social media site that helps people share the best (and worst) of businesses like dentists, hair stylists and car mechanics. If you're a  PR person whose clients are small business owners, incorporate this site into a publicity or marketing campaign.
But don't try to persuade customers to write positive reviews about you or your client, or you could be sabotaging yourself.
Yelp allows users to contribute different kinds of content, including reviews, photos, events, private messages and more. It's a powerful way to pull local customers into your store, build a loyal following and promote your events. Yelp is one of the Top 10 sites I designated during the webinar I hosted last month on 50+ Places Online to Promote Your Live & Virtual Events to Reach Your Target Market & Pull Sell-out Crowds.  
Three times in the last week, Publicity Hounds have asked me about the best ways to solicit good reviews for their businesses.
My answer: Don't, or you'll be violating the Terms of Service. I've explained more about that in this quick guide on how to make the most of Yelp.
     
    
1. Create your profile.
This shows Yelp users who you are, where you're located, etc. Don't include your birthday and make it easy for thieves to steal your identity.
   
  
2. Unlock your Business Page.
This video shows how business owners can use the business tools. For example, you should add photos to your listing. If you're a coffee shop and you use an antique coffee grinder, say so, and include a photo. Is your cafe a popular meeting spot for Meetup groups? That's worth mentioning.
If you're a local restaurant and you're sponsoring a "meet the chef" event, let people know. Don't forget to take photos of as many in-store events as possible for sharing on Yelp and other sites.
     
    
4. Add your bio.
Keep it fun. What's your dream for your business? What's the one thing that persuaded you to do what you're doing? What's the most rewarding part of the job?
     
    
5. Choose a personal URL for your Yelp profile.
People can easily get to your Yelp profile without remembering a long, complicated URL.
     
    
6. Offer special discounts.
Encourage people to check out your listing by offering special discounts, special events, or limited time offers on your page. Consider a special discount if a customer says "I saw you on Yelp." This week, Yelp is rolling out check-in offers, similar to Foursquare.
     
    
7. Recommend other businesses.
Don't just wait for the reviews to start rolling in for your own business. Review other businesses. (No wheeling and dealing: "You write a good review for me and I'll write a good one for you." See next item.)
   
  
8. Don't solicit good reviews.
Yelp has a filter that weeds out suspicious reviews. Besides, consumers are very wary of reviews that don't sound authentic. There's nothing wrong with a sign in your shop that says "See us on Yelp for special discounts and other events" or something like that. But don't even suggest that they write a positive review. If customers have something good or bad to say, they will.
     
    
9. If you get a good or bad review, respond to it publicly.
A public response, particularly one that acknowledges problems and promises to make things better, shows that you appreciate the feedback and are committed to improving things for customers. It also gives you a chance to set the record straight if the negative review included errors.
Here's a helpful list of 10 tips on how to respond to bad reviews.
By the way, Yelp won't yank a bad review if you're an advertiser. So don't waste time asking.
     
    
10. Also respond to good and bad reviews privately.
Responding privately to the person who posted a negative review can reap big dividends. Yelp says that its users often change a negative review to a positive one after they receive a private response, especially an apology, from a business owner.
Don't view negative reviews as always bad. These reviews flag problems that you might not otherwise know about, and they give you a chance to correct them before you lose business.
     
    
11. Publish your reviews to Facebook and Twitter.
What other ways do you recommend business owners use Yelp? How has it helped you gain a loyal following?
Do you respond to reviews? If not, why not? If so, have you been able to turn a negative review into a positive one?