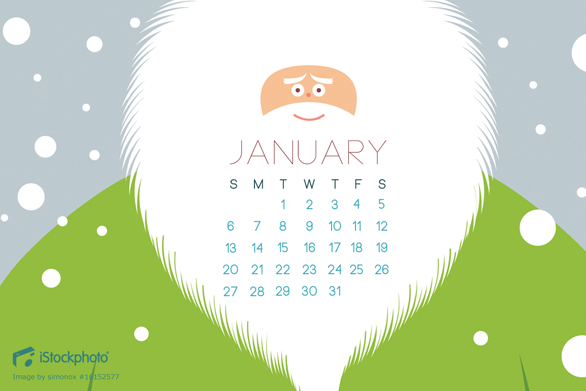 Let's start of the new year on the right foot and fill the hopper with about a dozen story ideas you can pitch to the media and bloggers this month. Use these when the idea well is dry, or work them into your publicity plan for 2014.
How? By pitching them to national magazines in July this year. Remember that many magazines have a six-month lead time.  
These ideas will also come in handy for bloggers, ezine editors, podcasters, article writers and anyone who needs to create content for their websites and share in social media.  

1. Salvaging New Year's Resolutions
The new year is less than a week old, but I'll bet many of those resolutions were already tossed away with yesterday's garbage. Is January a bad time to make resolutions with Christmas bills piling up, pounds piling on from all those Christmas cookies, and everyone exhausted from the holidays?
Do you have a product or service that will help people lose weight, quit smoking or be less stressed out?
 
2. Economic Predictions   
Now that the fiscal cliff drama is over, at least temporarily, stock brokers and financial analysts can make predictions about the economic impact of the new legislation that President Obama is signing. How about pitching your expert commentary on how it will affect your state? Your community? Your industry?
Accountants, are your small-business clients confused about the higher FICA taxes? If so, what are you doing to help them?
3. Super Bowl Sunday
The media LOVE stories about wacky and over-the-top Super Bowl parties. Pitch or write about things people can do if they don't care about football.
And don't forget those TV commercials! Invite a local TV crew into your home to gauge the reaction of your family and friends who can "rate" the commercials.
4. National Book Week
The third full week in January is National Book Week—a perfect time for authors and publishers to offer themselves as expert sources on the red-hot topic of ebooks. Discuss trends you're seeing in your industry such as print-on-demand, Amazon marketing and audio books.
Non-profits and libraries, this is the perfect time to encourage people to donate old books for a good cause.
Go over to Goodreads, the giant book review and recommendation site, and start a discussion about an interesting aspect of publishing. Or ask your followers to discuss their favorite book.
Start a Pinterest board and pin covers of your favorite books. Let your followers pin, too. 
 
5. Inauguration Day
President Obama will be sworn in on Sunday, Jan. 20. What are the implications of another four-year Obama presidency for your company, business, nonprofit, city, state or town?
 
6. The Winter Blues  
What are the best ways to shake off the winter blues? What kinds of special lights can help? How often should you be exposed to light to feel less cranky?
Stores are slashing prices. But does shopping really cure the blues, or can it create even more problems?
7.   Travel Bargains
There's nothing like shaking the winter blues than visions of white beaches and blue seas.  Can consumers find travel bargains this month? What travel scams are lurking out there?
 
8. The Best Credit Cards 
Our mailboxes are stuffed with offers of cash-back programs. Points. Double-points. Bonuses. Hotel loyalty programs. Gas cards. Student credit cards.
The average consumer's eyes glaze over just thinking about getting a new credit card.  If you're an expert in this area, enlighten the masses about the best credit cards, hidden fees, interest rates, and other facts tucked away in the fine print. 
 
9. Winter Driving Safety
Car safety experts, truck drivers and driving school instructors can share tips on how to drive in deep snow, on ice, and in sleet storms. When offering advice, remember all the different types of vehicles, from the biggest SUVs to tiny little boxes on wheels. This category provides potential galore for YouTube videos. 
10. Diets and Weight Loss Programs
This is one of the hottest topics for the cold month of January, especially for TV, which relies on people, color and motion for a good story. If you work at a company, see if your employees want to be part of these stories. Invite TV crews to follow them on a weight loss campaign.
Other topics in this category include diet and age, diet drugs, the best exercises, how the elderly and those with disabilities can stay fit, fad diets, and the healthiest fast food. More potential for videos by demonstrating exercises. More opportunities for YouTube videos. How about demonstrating those exercises? Or how to make a low-fat recipe?
That's my list. What can you add to it?