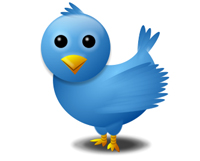 If you aren't among the more than 20 million people on Twitter, you may feel like you're late to the party.
That's OK.  There's no reason to be ashamed or embarrassed that you don't understand what all the fuss is about.
Twitter, I've discovered, is one of the best and quickest ways to build a huge following of people who are hungry for what's in your brain.
But one of the biggest Twitter myths is that the person with the most followers wins.
If only a minuscule percentage of my more than 20,000 followers care about the information I share, but a majority of your 300 followers can hardly wait for you to tweet, you could be more successful than I've been.
     
    
5 Tweets That Beg to be Retweeted
So what makes an irresistible tweet?
Content-rich articles.
    
Clever or helpful videos.
    
Educational infographics. 
    
I throw in an occasional funny headline or a pithy one-liner just to keep things interesting. 
  
And I have 4 or 5 formulas for writing tweets that tease my readers and almost force them to click on the links I'm sharing.
I don't write about what I ate for lunch, what time I woke up, or what the peoplewatching is like when I'm at the coffee shop.  That just adds to the noise and is of no help to the people who follow me to learn about publicity tips.
But that's only a small part of my strategy.
Many Publicity Hounds still aren't tweeting because they aren't sure where to start, and they've heard that it can be a huge time-suck. 
     
    
Learn more on Aug. 4 Webinar  
I'm hosting a webinar next week on "Twitter for Beginners: A Step-by-Step, Can't-Fail System for Experts and Influencers (and Those Who Want to Be)."  It's at 3 p.m. Eastern Time on Thursday, Aug. 4.
This webinar is perfect for Publicity Hounds who manage their own Twitter accounts and for PR people who are training clients on how to manage theirs. 
Take a look at the list of things that you'll learn. If you've been tweeting awhile and some of that content looks foreign to you, I hope you'll join us!