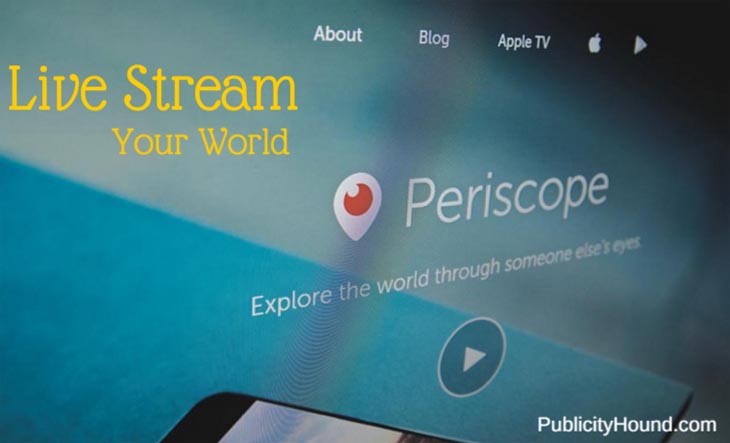 By Roshanda Pratt
Guest Blogger
If you're looking for a strategic tool for your business, organization or book, consider live streaming.
I love Periscope, the Number One app of 2015, owned by Twitter. Its tagline is "Explore the world through someone else's eyes." It's the easiest way to broadcast live video from your phone, enabling you to share what's happening around you — with the whole world or just a few friends — as it happens.
About 10 million people have downloaded it. Only about 1 percent are using it. That means more opportunity for you to build your tribe and sell through live streaming.
Even if you're already on YouTube, Periscope gives you the ability to have a second channel, one that will let people interact with you, in real time. 
How to Use Periscope
First, you must have a Twitter account. Next, download the app, available for Apple and Android users. 
To go live to your audience members, who also have the Periscope app, it's simple. Type in your show title and hit the red "Start Broadcast" button. Your "show" or broadcast via the app is available for 24 hours for replay. After that, you can use Katch.me for cloud storage. Viewers can comment in real time and show love by tapping on their screens and giving you hearts when they like what you're saying. People don't need the app to watch your videos on Twitter.
Here's a video I created using Periscope.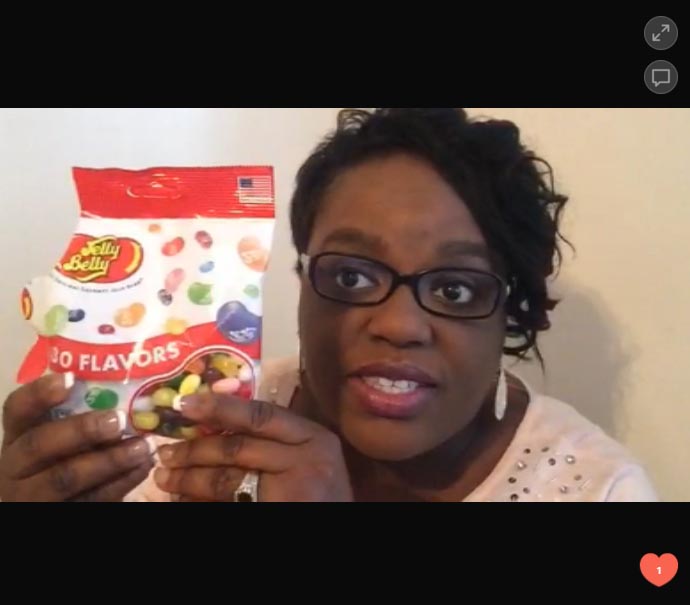 I tweeted about the live broadcast on "3 ways storytelling can improve your marketing," like this:
After the video link expired, I used Katch to store the video so people can continue to watch it. That's the one you see above.
Who should use Periscope?
Anyone who wants to increase their reach and message. Periscope and Facebook mentions —also known as Facebook Live, Facebook's version of live streaming—are changing how we interact with clients and prospects. Gone are the days of hiding behind flyers, brochures and other marketing materials. You can now can put your face and name on your product or service. If you're willing to go live, there's probably someone willing to listen.
Use Periscope to Build a Facebook Group
I encourage people to move from my Periscope videos to my  Facebook group, TheRoShoLive, by holding up a card at the beginning of the video that includes the link to the group.

That's one way I'm building my tribe.   
My first real "scope"—that's what Periscope calls a broadcast—came when a media colleague challenged me to try it. Using the hashtag #whatsinyourfridge, I gave viewers a tour of my refrigerator. I was amazed that well over 100 people were interested. How did I know? Periscope gives users a way to track how many people are actually watching. You can see their Periscope handle, click on it, and it will take you to their Twitter profile. 
I also have created a private Twitter list called "My Scope Squad" comprised of people who watch my shows. It lets me search the Twitter feeds of those list members, find out what they're discussing, learn their pain points, and continue to build the relationship by offering them helpful advice.
Ideas for Periscope Content
The topics are endless. But concentrate on your niche. I created #whatsinyourfridge back when Periscope was new and I didn't create my settings to save the video.
Everything you talk about doesn't need to be about business or sales. Look at your show much like a morning news program. Offer variety, and people will come back for more.
What's the point of adding one more social media platform? Besides giving a face to your brand, some people are actually profiting from Periscope. I've made a few hundred dollars from it already. I created a digital product for Black Friday, went onto Periscope and started talking about it. Shade Adu, a brand strategist and Periscope user, bought the product and shared it with her audience and that led to more sales.  
Other influential users report making up to six figures, selling products and services like consulting.  When you show up consistently with value, you can monetize it.
More Tips
Be consistent. If your fans like your content, they'll become regular viewers.
Offer value. Along with the funny stuff,  also showcase your area of expertise. In the video above, you can see how I combined a little of both—my love for Jelly Belly candies and my tips for using storytelling in your marketing campaigns. 
Be real. This is your time to shine. Showcase what's great about you. Don't try to be someone else. Practice and show personality.
Give your show a hashtag. Mine is #TheRoshoLive.
Let your friends, followers and fans on all your other social media accounts know about your Periscope channel, like I did with my Facebook group.
This is your year to go live. What are you waiting for?
Still need a little more motivation or insight? I created a free cheat sheet here. And you can find a handy Periscope step-by-step guide here. Also, make sure to follow me on Twitter at @RoshandaPratt for more PR and Scopealicious media tips.
Let's take our brand from behind the scenes to the front of the camera. I'll see you on Periscope.