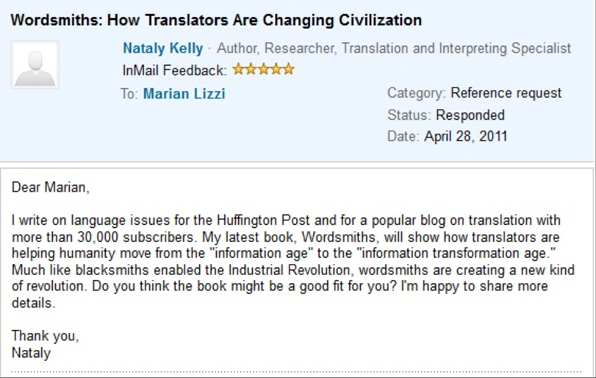 Nataly Kelly spent years pitching publishers with an idea for a book on how language changes our lives and affects the world.
No bites.
She hired an agent who pitched it to the big New York publishers.
Not even a nibble.
Months later, after she severed ties with the agent, she got the bright idea to send a short pitch to the book editors in her LinkedIn network.
Bingo!
One of them, Marian Lizzi from Perigee, a division of Penguin, was fascinated with the tightly-worded, five-line pitch. She loved the idea, too, and said it was the first time an author had ever pitched her via LinkedIn InMail.
Fast forward: Penguin published Nataly's book, "Found in Translation," in October. The book is ***already*** in its fourth printing.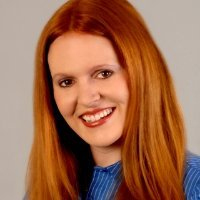 Not even a book agent could do what LinkedIn InMail was able to do.
You can't ask for a better ROI than that. I'm guessing that Nataly laid the groundwork on LinkedIn long ago and started connecting with book editors and people who worked at publishing houses. Once she was connected to them, that made it easier to email them. 
Advanced Search + InMail = Success
Whether you're looking for publishers to sign a contract, radio talk show hosts to book you as a guest, journalists to include you in their stories, or business people with specific titles who can buy your products and services, LinkedIn is a still a diamond in the rough if you don't know how to use it.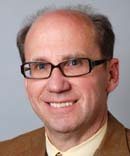 LinkedIn expert Wayne Breitbarth knows EXACTLY how to use it.
He knows all the little tricks like using LinkedIn's Advanced Search to find EXACTLY who you need, and then using LinkedIn InMail to introduce yourself and offer to help. That's what he does, and he gets booked on radio talk shows regularly.
Wayne also knows intriguing ways to use LinkedIn's new Professional Gallery, and the other new tools and tweaks introduced in the last several months, so you can put your best foot forward and tower far above your competitors.
Watch Step-by-Step How It's Done 
Join Wayne and me from 3 to 5 p.m. EST on Thursday, Feb. 7, for a webinar on "LinkedIn Update: What's In, What's Out & Under-the-Radar Changes to Crush it in 2013." He will go live on the Internet and demonstrate, step-by-step, how you can do what he and Nataly Kelly have done.
If the time slot doesn't work for you, sign up anyway because I'm recording it, and I'll send you the link to the download page where you can access the video replay and the package of bonuses.
On that registration page, be sure to read the testimonials from the many people who LOVED Wayne when they participated in his three previous webinars with me. Don't miss this one. Register here.
If you want to read more about how Nataly pitched here idea, you can read The InMail That Landed Me a Book Deal.