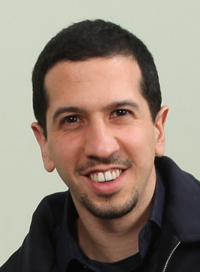 I love hearing rave reviews from Publicity Hounds when I offer them free tips from a guest expert who I know they will love.
Danny Iny of Firepole Marketing did a training event for my audience on Jan. 10, about what it's really going to take to build a thriving audience and business this year.
Just one little exercise he walked us through on the call, using only a sheet of paper and a pen, is forcing me to rethink the way I approach my business. As a result of that exercise, I'm strongly considering going after a target audience that many of my competitors are leaving behind. 
Unfortunately, a lot of Publicity Hounds missed the call, and Danny didn't offer the replay like he usually does. 
That's why I wagged my tail when Danny told me he's delivering the same training, one more time: at 3 p.m. Eastern on Tuesday, Jan. 29. And there will be a live replay the next day, at  8 p.m. Eastern. It's free, but you do have to register, and you do have to show up. A recording will NOT be made available.
Click here to register for this LAST CHANCE to attend. 
Here's a small sampling of what Danny shared on the training. You'll hear this when you reserve your seat and tune in:
The step-by-step blueprint that Danny used to grow Firepole Marketing from *nothing* to a multiple-six-figure business (that you can use, too!)

The most important traffic strategy that *real* experts use (but aren't teaching)

Why being authentic and doing what you're passionate about is the BEST way to make the MOST money (and the *only* safe strategy in 2013)

The counter-intuitive (but totally legit) way to get better results by doing much *less* work (this is the exact OPPOSITE of what most "gurus" are teaching!)

The two most important metrics for any online business (hint: *neither* of them is traffic)

How you can *realistically* replace a full-time income THIS YEAR
Don't miss this one, Hounds. Register for the Danny Iny training here.