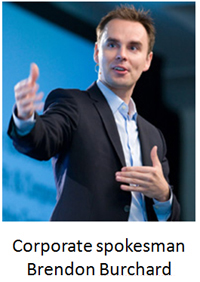 What author, speaker or expert wouldn't love to be sponsored by a big-name corporation?
The company promotes you to spread a message about a topic you're already passionate about in return for mentioning the company onstage, or at a book signing, at your blog, and in videos. They even pay for your airfare, hotel and other travel expenses.
But companies don't have money to throw around, especially now in this bad economy, right? 
Wrong.
Companies and nonprofits that are cutting back on expensive advertising campaigns are turning, instead, to a much cheaper way of promoting their own names. They're teaming up with authors, speakers and experts who are already knowledgeable about topics that tie in perfectly to the goals of the company or nonprofit.
It took Brendon Burchard two years to crack the protective shell of some of these giant organizations and land his own corporate sponsorships. So far, he has been sponsored by Wachovia, Coke, Toyota, Sony, the YMCA, Walmart, Kiwanis, US Bank and Junior Achievement.
He says you can land sponsorships, too, if you know exactly who to contact, when to contact them, what to say and—most importantly—what to already have in place.
Brendon will be sharing his tips during a free teleseminar at 2 and 7 p.m. Eastern  Time on Thursday, Oct. 24, with host Steve Harrison. Register here. 
How a Corporate Sponsorship Can Help You
Big corporate sponsors, he says, offer four key benefits to their much smaller partners:
1. They have a budget to promote you.
Even though they might be cutting back on public relations to trim expenses, it's still much cheaper to pay you and your expenses than to rely solely on a big, expensive PR firm. In other words, they're paying to promote you and to provide your PR. 
2. They already how how to serve and sell to the same people who are in your audience.
Because many of them have already done sophisticated testing and marketing studies, they know which marketing tactics work best. They know how to manage an effective email campaign. They know if direct-mail works well and, if so, the type of direct mail pieces that get the most response froom their audience.
3. Because they have giant email lists, they can get you in front of thousands of people who don't know about you.
Brendon says his many corporate sponsorships resulted in about 30,000 people who were added to his own email list. That's huge!
4. They have access to staff and volunteers.
When you land a corporate sponsor, they have people in place to help you with all the little details. That's so much easier than hiring your own employees to help, or outsourcing the work to independent contractors you have to oversee.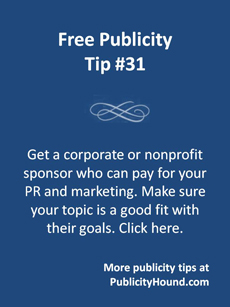 In just 18 months, Brendon's sponsors and promotional partners agreed to buy 50,000 copies of his self-published book, allowed him get over $500,000 in advances for his second book, paid him high fees for 65 speaking engagements, and helped him reach more than 2 million people a month while raising $250,000+ for charity.   
He'll explain how he did it on Thursday's free call. 
Full Disclosure: I'm one of Steve Harrison's affiliates, and if you buy something from him down the road, I'll get a commission.